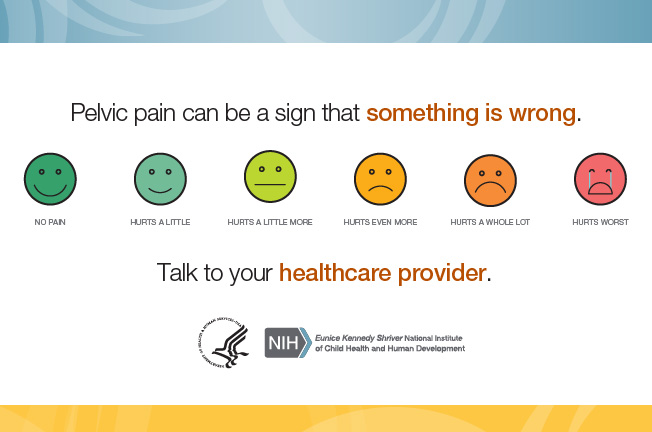 The Centers for Disease Control and Prevention estimates that 20 percent of Americans live with chronic pain. Understanding how to manage and treat pain is a central goal of NICHD research. For instance:
Pain is a common feature of many gynecological conditions, such as endometriosis, pelvic adhesions, and pelvic inflammatory disease. Pain and pain management also are routine parts of the pelvic surgeries used to treat certain gynecologic conditions.
Most critically ill and injured children require short-term pain management while receiving care in the Pediatric Intensive Care Unit and longer duration pain management after discharge.
Rehabilitation for physical impairments, such as traumatic brain injury, and disabilities, such as cerebral palsy, must include strategies for managing acute and chronic pain.
Patient perceptions of pain can be psychologically mediated and modified nonpharmacologically.
Understanding risk factors for chronic pain and preventing acute-to-chronic pain transition are critical for improving developmental and health outcomes.
Identifying safe and effective options for pain management is a critical aspect of prenatal and postpartum care, care during labor and childbirth, and routine or intensive newborn care.
Pain is one of the most common reasons for a person to be prescribed opioids, increasing the risk of opioid use disorder. For more on NICHD's research related to opioids, visit our Opioid-related Research Supported by NICHD webpage.
NICHD supports and conducts multiple efforts related to pain in a variety of groups, including children, women of reproductive age, as well as pregnant and lactating women, and people with disabilities. The institute is also part of the NIH Pain Consortium, which aims to enhance pain research and promote collaboration across NIH. We describe some of NICHD's pain-related efforts on this page.
Research Areas and Funding
Research News
Resources
Research Areas and Funding
Several NICHD components support pain-related research.
Division of Extramural Research (DER)
Visit https://www.nichd.nih.gov/about/org/der/branches for a full list of NICHD DER program areas and priorities.
Division of Intramural Research (DIR)
Visit https://www.nichd.nih.gov/about/org/dir/affinity-groups for a full list of NICHD DIR affinity groups.
Fields Lab: Section on Nervous System Development and Plasticity
Contact: R. Douglas Fields, Ph.D.

Projects include research on chronic pain as it relates to Gulf War Illness and the regulation of gene expression by action-potential firing patterns. 2018 DIR Annual Report: Nervous System Development and Plasticity
Belgrad, J., Dutta, D. J., Bromley-Coolidge, S., Kelly, K. A., Michalovicz, L. T., Sullivan, K. A., O'Callaghan, J. P., & Fields, R. D. (2019). Oligodendrocyte involvement in Gulf War Illness. GLIA, 1-18. PMID: 31339622
National Center for Medical Rehabilitation Research (NCMRR)
NCMRR supports basic, translational, and clinical research to help enhance the health, productivity, independence, and quality of life of people with physical disabilities. Pain-related research interests include rehabilitative interventions and strategies involving pharmaceutical, stimulation, and bioengineering approaches; exercise; motor training; occupational therapy; and behavioral modifications for management of pain in individuals with physical disabilities. Rehabilitation prevention and treatment strategies for mitigating pain, a key secondary condition associated with physical impairments and disabilities, are strongly encouraged. For a full list of research program areas and priorities, visit https://www.nichd.nih.gov/about/org/ncmrr/programareas.
Contact: Susan Marden, Ph.D.
Pain-related Funding Opportunity Announcements (FOAs) and Notices for NICHD (As of September 2019)
Please note that this list includes pain-related FOAs outside of the NIH HEAL (Helping to End Addiction Long-termSM) Initiative. Visit the NIH HEAL InitiativeSM website for a listing of HEAL FOAs.
Research News
The following list includes some pain-related findings from NICHD-funded research. Visit https://www.nichd.nih.gov/newsroom/news to search all NICHD news items.
Resources