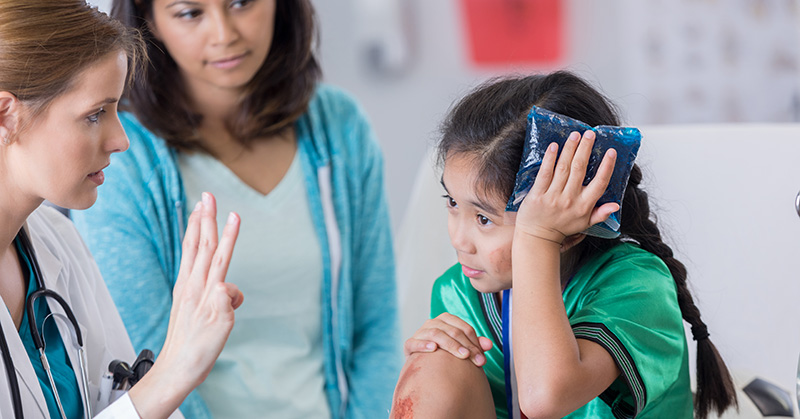 Children with concussion, or mild traumatic brain injury, were no more likely to experience a drop in IQ scores after their injury than were children who received injuries to the muscles or bones, according to a study funded in part by the Eunice Kennedy Shriver National Institute of Child Health and Human Development. The findings suggest that concussion is unlikely to affect children's intelligence in the long term, providing reassurance to caregivers of pediatric concussion patients.
The analysis of data from Canadian and U.S. studies that evaluated a combined total of more than 800 children and teens admitted to emergency departments was conducted by Ashley Ware, Ph.D., of Georgia State University and colleagues at institutions in Canada and the United States. It appears in Pediatrics.
Background
A concussion is a traumatic brain injury caused by a bump, blow, or hit to the head, or a jolt to the body that causes the head to move back and forth rapidly, sometimes stretching and damaging brain cells. Concussions are a mild form of traumatic brain injury. Symptoms include irritability, changes in mood, confusion, amnesia, and difficulty concentrating. Few studies have examined whether pediatric concussion results in permanent loss of intellectual function, and those studies have produced conflicting results.
The researchers analyzed data from two separate studies that collected data on pediatric patients admitted to emergency rooms. For comparison, the studies also collected data on patients with orthopedic injuries (injuries to the muscular and/or skeletal systems)—a group chosen to control for other factors that might potentially influence IQ scores, such as demographic background and the experience of trauma and pain.
A total of 196 participants ages 8 through 16 years were enrolled within 24 hours of receiving an injury and completed all testing at emergency departments at two U.S. hospitals. Another 670 participants of the same age range were enrolled and completed testing at emergency departments in five children's hospitals across Canada. Overall, 566 had concussion and 300 had orthopedic injuries. Participants in the U.S. study completed an IQ test one to two weeks after being evaluated for their injury, and participants in the Canadian study underwent IQ testing three months after their injury evaluation.
Results
Overall, researchers found only small statistical differences between the two groups in scores of full-scale IQ and matrix reasoning (a measure of visual processing and spatial perception) and no difference in verbal IQ score.
Significance
The authors said they found no evidence of clinically meaningful differences in IQ scores after pediatric concussion and found strong evidence against reduced intelligence in the first few weeks to months after pediatric concussion.
"We looked at socioeconomic status, patient sex, severity of injuries, concussion history, and whether there was a loss of consciousness at the time of injury," said study senior author Keith Yeates, Ph.D., of the University of Calgary. "None of these factors made a difference. Across the board, concussion was not associated with lower IQ."
Reference
Ware, AL et al. IQ after pediatric concussion. Pediatrics. 2023.