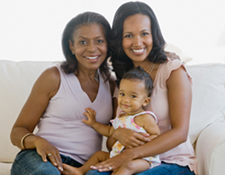 The Eunice Kennedy Shriver National Institute of Child Health and Human Development (NICHD) has launched a collaborative process to revise and update its strategic plan.
Latest Updates
Background
For more than five decades, NICHD has provided both national and international leadership for research involving children, pregnant women, and people with disabilities. In the fields of developmental biology, reproductive health, pediatrics, population health, and medical rehabilitation, the institute's broad research portfolio has advanced the biomedical and behavioral health of our nation.
Today, the United States and the global community face an array of emerging and long-standing challenges—such as the rise in opioid use, especially among pregnant women—that threaten to erode gains in public health. At the same time, technology breakthroughs, whether in genome sequencing, personalized medicine, wearable devices or other fields, offer new opportunities for scientific discovery and advancements in public health. NICHD must remain well-positioned to accelerate the basic and translational science needed to address these challenges and opportunities.
This strategic planning process will enable internal and external stakeholders to look at NICHD's portfolio with a fresh perspective and to review and refocus its science to encourage new partnerships and collaborations to improve the health of the populations we serve.
Read the NICHD Strategic Plan: Background and Context (PDF 1.3 MB) document to learn more about the strategic planning process.

Text Alternative
Strategic Planning Working Group
To inform and support the strategic planning effort, NICHD established a Working Group of representatives from the extramural research community, health care sector, patient and advocacy communities, and NICHD and other federal agencies. The group is charged with making recommendations on the following:
Scientific foci or themes for NICHD
Strategic priorities within each focus area
Aims and objectives to inform implementation of the strategic plan
Aligning staff and organizational resources to optimize implementation of the plan
Leveraging partnerships, training programs, and communications strategies to advance the plan
Strategies for assessing progress toward achieving the goals and objectives of the plan
Visit Strategic Planning Working Group membership (PDF 160 KB) for more information.