What is Cushing syndrome?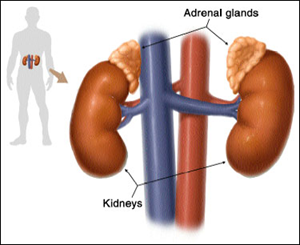 Cushing syndrome is a condition that occurs when the body's tissues are constantly exposed to too much of the hormone cortisol.1 The syndrome is named after a brain surgeon, Harvey Cushing, who identified the condition in 1932.2 Cortisol is produced by the body's two adrenal (pronounced uh-DREEN-l) glands either in response to stress or when the cortisol levels in the blood are lower than they should be. Cortisol is a type of glucocorticoid (pronounced GLOO-koh-KAWR-tuh-koid) or steroid (pronounced STEER-oid or STER-oid) hormone.
In the right amount, cortisol helps the body with several vital tasks:
Maintaining blood pressure and heart function
Controlling the immune system
Converting fat, protein, and carbohydrates into energy
Raising blood sugar levels as needed
Controlling bone formation
When the body continually receives or produces too much cortisol, either from medication or as a result of a tumor, Cushing syndrome can develop. Many factors influence whether this happens, such as the medication dosage and how long it is taken. Or, in the case of a tumor, how large it grows before it is detected and treated.
---
Stewart, P. M., and Krone, H. P. The adrenal cortex. In: Kronenberg H.M., Shlomo, M., Polonsky, K.S, Larsen, P.R., eds. Williams. Textbook of Endocrinology. 12th ed. Philadelphia, Pa: Saunders Elsevier; 2011:chapter 15.
---