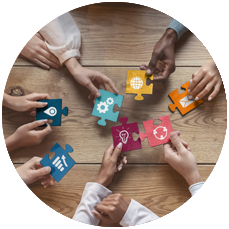 SRB is responsible for a broad range of functions related to the review of grant applications and contract proposals. The branch also coordinates the planning and conduct of initial scientific and technical merit reviews of many types of grant applications, including the following:
Program projects (P01s)
Research projects (R01s and R03s)
Exploratory/developmental research grants (R21s)
Centers and data coordinating centers (P20s, P30s, P50s, P2Cs, PL1s, U01s, UG1s, U24s, U54s)
Institutional training grants (T32s)
Career development awards (Ks)
Conference grants (R13s)
Research education programs (R25)
Loan repayment program grants L30, L40, L50
The branch also assembles technical evaluation groups of extramural scientists to evaluate contract proposals that arrive in response to requests for proposals issued by the institute.
SRB Scientific Review Officers (SROs) oversee the initial peer-review process, managing study sections, organizing special emphasis panel review meetings as needed, and recruiting scientists outside of NIH to serve as peer reviewers.
To review grant applications, SRB relies on eight study sections or, when appropriate, special emphasis panels, convened for expertise in a specific area of science. Select the Study Sections and Special Emphasis Panels link to learn more.