NICHD staff work every day to advance our mission to understand human development, improve reproductive health, enhance the lives of children and adolescents, and optimize abilities for all. Across NICHD, our staff bring with them a wealth of knowledge and skills that help the institute break new ground and expand the limits of existing research.
The following profiles will help you get to know NICHD's culture and its scientific impact as well as our staff as they explain what inspired them along their career path, what led them to NICHD, and what NICHD has brought to their career.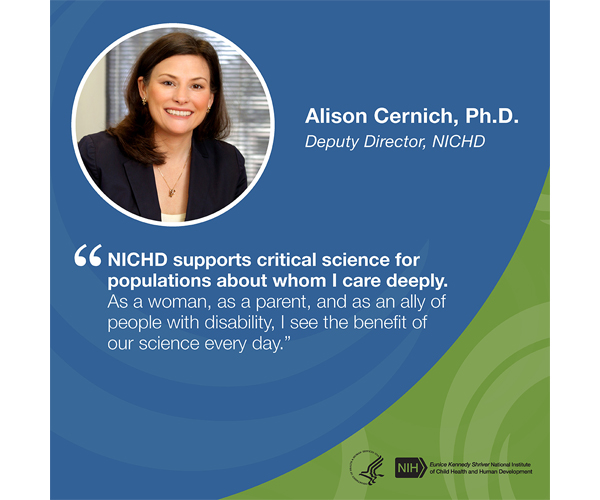 Alison Cernich, Ph.D.
Dr. Cernich had different plans for her future career until cinematic inspiration redirected her path. As NICHD's Deputy Director, she proudly represents the science the institute supports and steps up to whatever the role brings her, including this past year's many COVID challenges.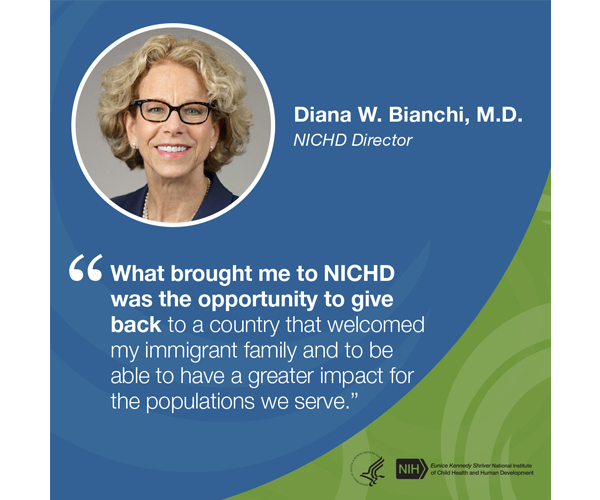 Diana W. Bianchi, M.D.
Dr. Diana Bianchi's interest in science and research began through her love of nature and the profound influence of watching her family cat give birth and continued to grow thanks to the influence of exceptional female role models throughout her high school and higher education training.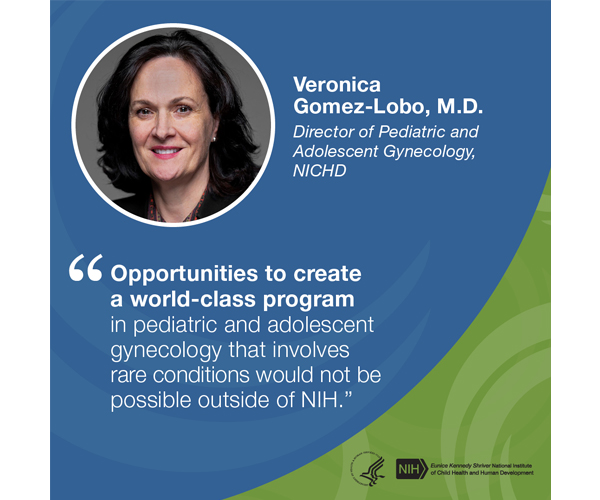 Veronica Gomez-Lobo, M.D.
Dr. Veronica Gomez-Lobo wanted to be a doctor from the age of 12. Her interest in medicine initially grew from a desire to care for underserved populations. As a resident, she discovered a love for teaching, and as a residency director, she added scholarship and research to her list of interests.
NICHD researchers and staff carry out the Institute's mission through their work in the lab, in the field, and in their offices. The interviews below provide a deeper look at the Institute's dedicated staff, the science it conducts and supports, and what that science means to the public.
If you need additional biographical information on NICHD leadership or would like to schedule an interview with an NICHD staff member, contact the Office of Communications at nichdpress@mail.nih.gov or 301-496-5133.