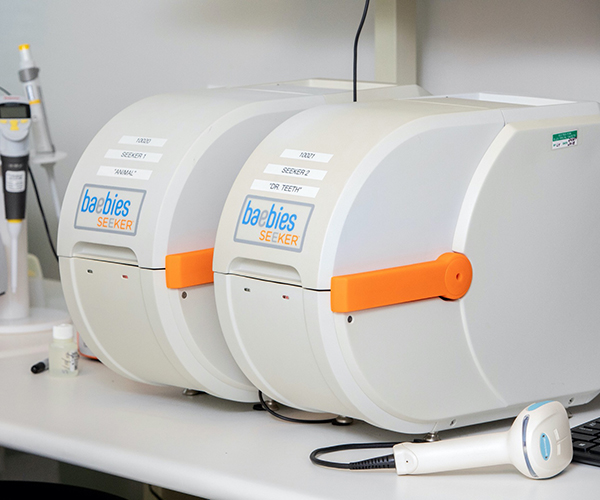 The SEEKER® newborn screening platform.
Credit: Baebies®
Worldwide newborn screening programs screen millions of infants each year to detect disorders early, allowing for treatment to begin before symptoms or permanent problems occur. One NICHD-funded small business project, called SEEKER®, became the first newborn screening platform authorized by the U.S. Food and Drug Administration (FDA) to detect lysosomal storage disorders. These metabolic disorders are usually caused by enzyme deficiencies that lead to the buildup of toxins within cells. The resulting damage to the cells, especially neurons, can affect learning, development, and movement. Some lysosomal storage disorders are fatal.
Small business funding from NICHD enabled the company, Baebies®
, to develop and commercialize SEEKER®, a platform that uses innovative digital microfluidics technology to quickly test for four lysosomal storage disorders—mucopolysaccharidosis type I, Pompe disease, Gaucher disease, and Fabry disease.
NICHD support began in 2007 on an SBIR project to establish the feasibility of using enzymatic assays on dried blood spots, which are routinely collected immediately after birth, to screen for lysosomal storage disorders. After the researchers showed that the device could accurately detect multiple lysosomal storage disorders from a single "punch" or sample of a dried blood spot, the FDA authorized SEEKER® in 2017. The technology also took less time to complete than other screening methods. In early 2021, the company announced a milestone
of delivering 10 million newborn screening tests in the United States and other countries.
NICHD continues to support Baebies® projects, including FINDER®, a testing platform that uses a toaster-sized instrument and disposable cartridge to provide point-of-care testing for severe forms of newborn jaundice. The platform looks for deficiencies in the enzyme glucose-6-phosphate dehydrogenase to detect jaundice, and it is currently under FDA's 510(k) review. The company also is developing a test panel for acute kidney injury in critically ill newborns and newborn screening solutions for Duchenne and congenital muscular dystrophies.
Advancements in newborn screening technology can lead to faster, less expensive, and more widespread testing that can save lives and improve the health and quality of life for people around the world.