Device can detect lysosomal storage disorders using dried blood spots
WHAT: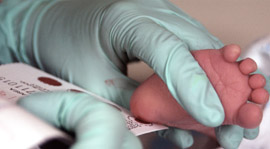 Newborn screening heel stick. Credit: U.S. Air Force, Staff Sgt Eric T. Sheler
A newborn screening device, developed with early-stage National Institutes of Health funding, has received de novo clearance from the U.S. Food and Drug Administration (FDA) for the detection of lysosomal storage disorders, which injure the brain and nervous system. The device, called SEEKER™, was created with funding from the Small Business Innovation Research program in NIH's Eunice Kennedy Shriver National Institute of Child Health and Human Development (NICHD). De novo classification from the FDA allows companies to market new types of medical devices that have low health risks.
Lysosomal storage disorders are caused by enzyme deficiencies that lead to the buildup of toxins within cells. The resulting cell damage, especially in neurons, can affect learning, development, and movement in children. Early screening and detection can help physicians treat these disorders before they cause irreparable harm. However, newborn screening is unavailable for many of these genetic disorders, of which there are more than 50 types. SEEKER™, marketed by Baebies Inc., detects four types of these disorders: mucopolysaccharidosis type I, Pompe disease, Gaucher disease, and Fabry disease.
NICHD-supported development of SEEKER™ began in 2007 with a project that tested the feasibility of screening for lysosomal storage disorders using dried blood spots. These spots are collected routinely after birth in newborn screening programs across the United States. In 2013, the researchers showed that the device could accurately detect multiple lysosomal storage disorders from a dried blood spot. The screening, from sample preparation to results, took less than three hours, which, according to the researchers, is faster than conventional methods for screening dried blood spots.
FUNDING:
Lab-on-a-Chip for Multiplexed Newborn Screening of Lysosomal Storage Disorders
###
About the Eunice Kennedy Shriver National Institute of Child Health and Human Development (NICHD): NICHD conducts and supports research in the United States and throughout the world on fetal, infant and child development; maternal, child and family health; reproductive biology and population issues; and medical rehabilitation. For more information, visit NICHD's website.
About the National Institutes of Health (NIH): NIH, the nation's medical research agency, includes 27 Institutes and Centers and is a component of the U.S. Department of Health and Human Services. NIH is the primary federal agency conducting and supporting basic, clinical, and translational medical research, and is investigating the causes, treatments, and cures for both common and rare diseases. For more information about NIH and its programs, visit www.nih.gov.