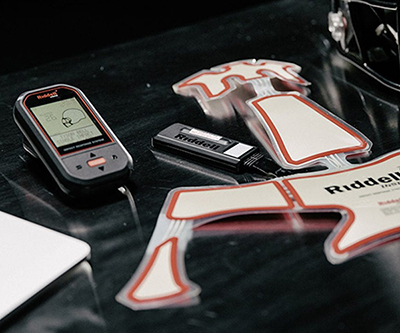 Simbex Head Impact Telemetry System
Credit: Riddell (Elyria, Ohio)
Concussions are a type of traumatic brain injury that can cause serious symptoms, including headaches, loss of coinsciousness, brain fog, and anxiety. Diagnosis can be subjective, which can be challenging for athletes and coaches, especially if symptoms are not immediate. The Head Impact Telemetry System (HITS)
, invented by Simbex, provides real-time monitoring of head impacts using an objective measurement, called a Head Impact Exposure (HIE), to optimize the safety and performance of athletes.
HITS was incorporated by Riddell into a "smart" football helmet system called InSite Analystics and now comes as standard equipment on Riddell Axiom helmets. The helmets have embedded sensors that wirelessly provide real-time data to coaches and other sideline staff. Staff are notified if a player has a head impact or combination of impacts above a specific HIE threshold, allowing for immediate medical evaluation and educational training opportunities to improve safety and performance.
Simbex was formed in 2000 and received small-business funding from NICHD from 2001 to 2003 and from 2009 to 2015. Using NICHD support, Simbex validated HITS, refined their sensors and computer software, developed a database and tools for data analyses, and ultimately brought their product to the market. The technology is now in widespread use at all levels of football, from youth to professionals. As further indication of the company's success, Simbex was acquired by Salona Global Medical Device Corporation in 2021.
Wearable technologies like HITS not only improve player safety but also provide tailored information that can benefit coaches and improve players' skill development. Furthermore, the data provided by HITS enables teams and leagues to develop strategies for improved detection, prevention, and treatment of concussions, which Simbex is studying in another NICHD-funded project.