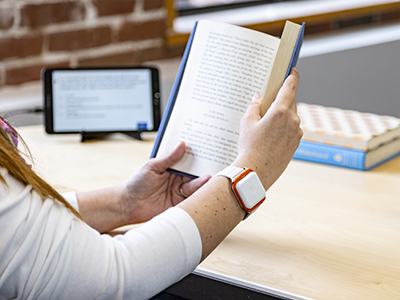 Credit: BioSensics
Stroke is the leading cause of paralysis and muscle weakness in the arms and hands (i.e., upper extremities) among people in the United States. The costs associated with treatment and rehabilitation are high, and patients often have trouble adhering to treatment, especially outside the rehabilitation clinic. Low-cost wearable sensors that integrate with mobile devices can provide a valuable connection between health care providers and patients that motivates treatment adherence, provides remote monitoring insights, and improves at-home rehabilitation and activities of daily living.
BioSensicsTM
, in partnership with Spaulding Rehabilitation Hospital, developed and patented a wrist-worn sensor technology called StrokeWearTM to continuously monitor upper extremity movements in stroke patients. The technology promotes the use of the stroke-affected upper limb by providing real-time feedback about everyday movements. It also helps patients set personalized movement goals with their clinicians and offers a daily summary of upper extremity activities to track recovery over time. Clinicians can view patients' data, adapt exercise regimens, and provide feedback remotely. NICHD has provided phased small-business funding for the project since 2015, and the company is currently completing a validation study before StrokeWearTM can be commercialized.
Since its founding in 2007, the company has received multiple small business grants from various institutes at NIH. For example, support from the National Institute on Aging resulted in the company's remote fall-monitoring program and medical alert system for older adults. This technology is used by hundreds of thousands of older adults, and it is also used in drug-related clinical trials for remote measurement of falls.
Wearable technologies that integrate with mobile devices provide health care providers and patients with the ability to remotely monitor daily functioning to improve at-home rehabilitation and recovery from stroke and other neurological conditions. Expanded use of these types of technologies may also bolster remote care for those with chronic disabilities.