How did you become interested in science and research?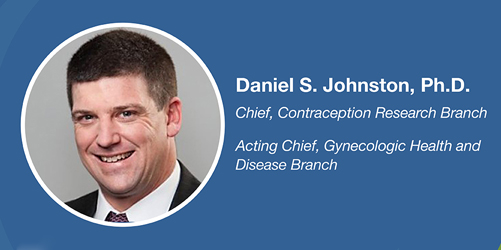 I became interested in science in the 11th grade when I took a high school class in anatomy and physiology. The greater spark to pursue a career in science occurred between my junior and senior years of college, when I was a member of the summer student program at The Jackson Laboratory in Bar Harbor, Maine. My summer research involved isolating male and female mouse gametes and conducting experiments using in vitro fertilization. The experience prompted me to change my focus from medical school to a Ph.D. in reproductive biology.
What brought you to NICHD?
Prior to coming to NICHD, my entire career was in the industry sector. Most small and large pharmaceutical companies left the field of reproductive biology in the middle of the first decade of this century. My position at NICHD as chief of the Contraception Research Branch gave me an opportunity to return to the study of reproductive biology and the development of products in this area. I've also served as acting chief of the Gynecologic Health and Disease Branch since last October.
What types of training, experiences, or traits are essential for success in your position?
Training in reproductive biology, reproductive health, and product development are essential. 
What do you find most valuable about working at NICHD?
Working in the extramural program at NICHD provides opportunities to identify and address research gaps in my field and to connect investigators with similar interests and complementary skills and needs.
Can you explain your job to people who are not familiar with scientific positions outside of a laboratory or clinical setting?
We administer funding to study the effect of contraceptive use on human health and the development of new and improved methods of contraception.
What advice can you offer to people who are at an earlier stage of their career?
Identify work you are passionate about, because when you care deeply about your work, you will do your job well.
Return to Get to Know NICHD.