Nancy Zhou, Ph.D.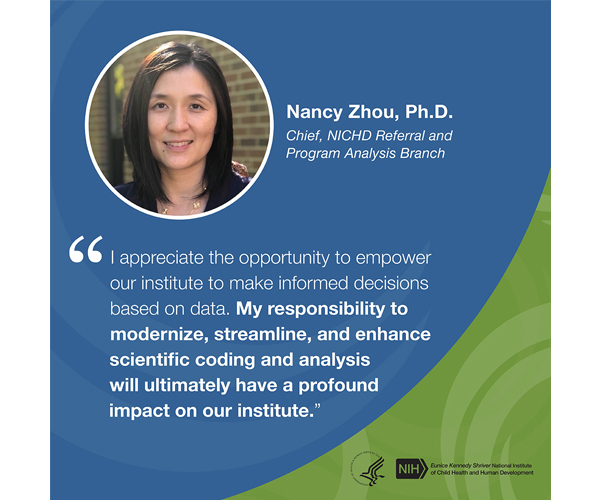 Dr. Nancy Zhou finds great value in mentorship, whether as the mentor or mentee. She attributes much of her success to mentors who guided her through various career milestones and is determined to share that same support with others, particularly with women in the fields of science and technology.
David Weinberg, Ph.D.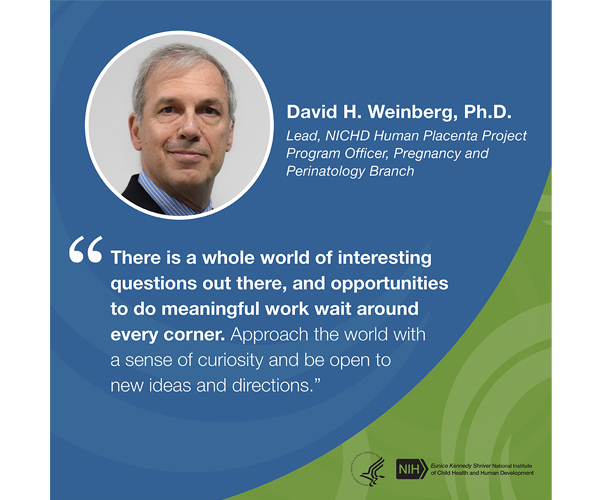 In every work position Dr. David Weinberg has held, he tries to bring enthusiasm, an open mind, and a willingness to carry his share of the workload. He also always seeks mentorship from persons above, equal to, and below him in the organization, as each person's experience with him is slightly different, and all have lessons to teach him.
Learn more about Dr. Weinberg.
Mark Stopfer, Ph.D.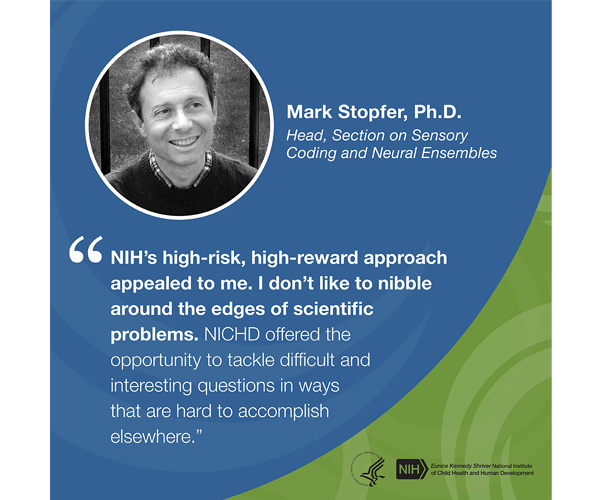 A childhood fascination with understanding how things worked was the spark that ignited Dr. Mark Stopfer's interest in studying the brain and how it processes information.
Ryan Dale, Ph.D., M.S.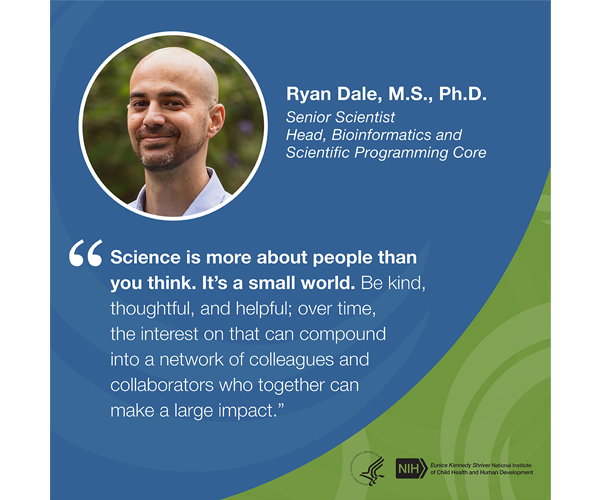 Dr. Ryan Dale's early research experiences spanned from the Midwest prairie to the coastal estuaries of Maine.
Rebecca Rosen, Ph.D.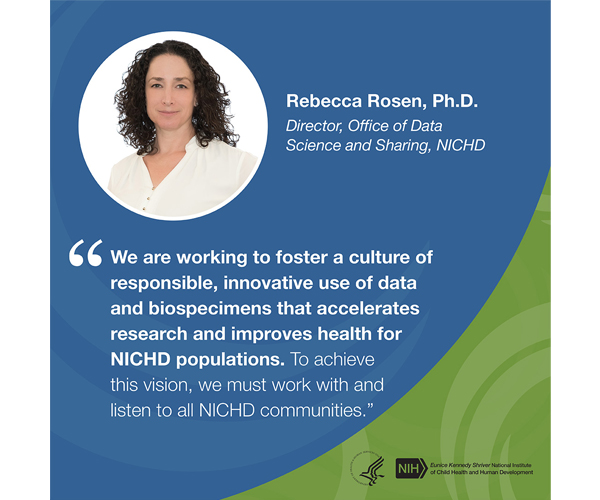 Dr. Rebecca Rosen joined NICHD in July 2021 as the director of the institute's newly established Office of Data Science and Sharing.
Samantha Calabrese, M.P.H.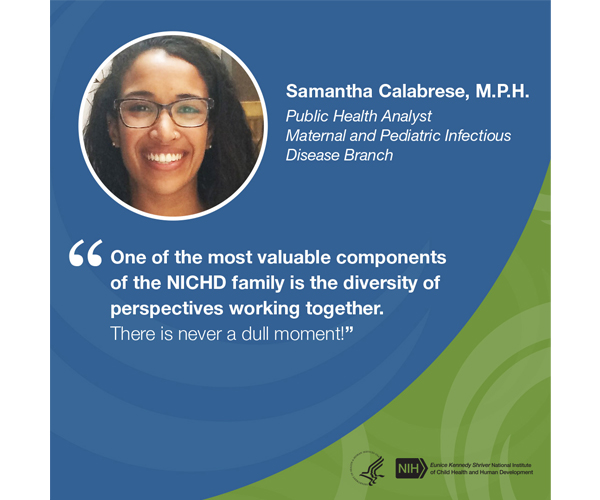 Samantha Calabrese, M.P.H., realized during a conversation with a high school teacher that one day she wanted to work for NIH. As a public health analyst for NICHD's Maternal and Pediatric Infectious Disease Branch, she supports domestic and international research, training, and career development programs in HIV and other significant infectious diseases.
Learn more about Ms. Calabrese.
Travis Kent, Ph.D.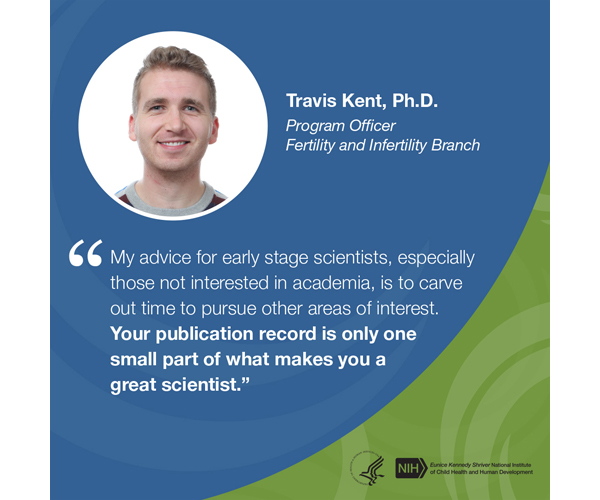 Dr. Travis Kent always had an interest in science and fell in love with the idea of research in college. Graduate school led him to focus on teaching and policy, and a fellowship brought him to a position with NICHD that would eventually lead him to his current position as a program officer with the Fertility and Infertility Branch.
Daniel Johnston, Ph.D.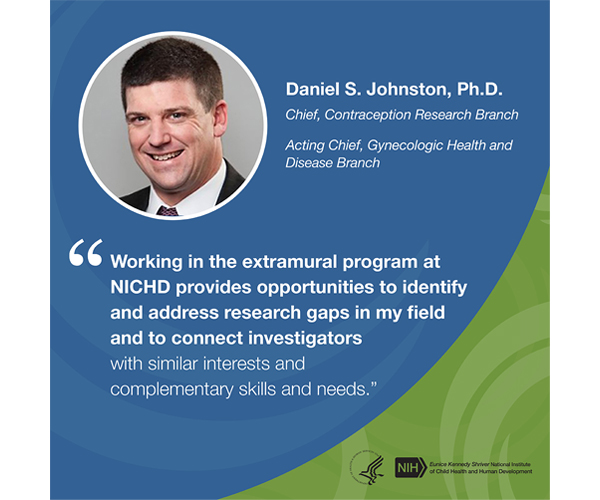 A summer spent as a member of the Jackson Laboratory's summer student program led Dr. Daniel Johnston to change his college focus from medical school to pursuing a Ph.D. in reproductive biology—a decision that would ultimately help lead him to his current position as chief of NICHD's Contraception Research Branch.
Learn more about Dr. Johnston.
Candace Tingen, Ph.D.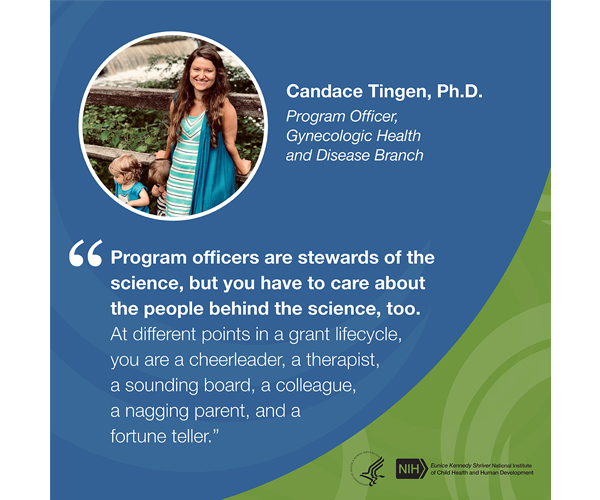 From mixing "cures" using common household ingredients to participating in middle school experiments led by an inspirational science teacher, Dr. Candace Tingen doesn't remember a time when she wasn't interested in science. However, a high school internship at NIH's National Institute of Environmental Health and Sciences was the experience that would introduce her to female reproductive health research—a path that ultimately would lead her to NICHD's Gynecologic Health and Disease Branch.
Sonia Lee, Ph.D.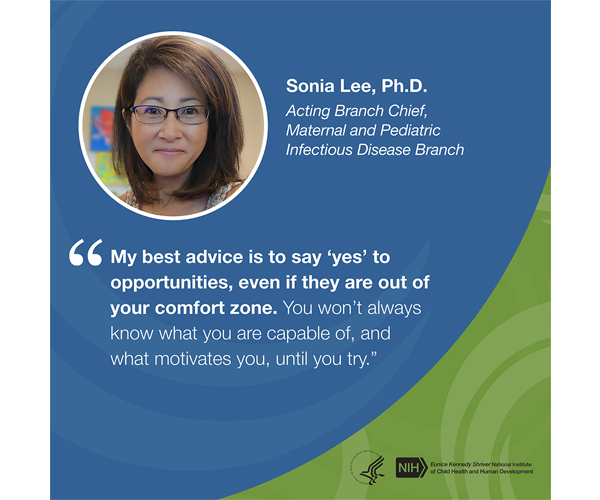 Dr. Sonia Lee's earliest inspiration came from her father, an anesthesiologist who would often take her to the hospital to meet the healthcare providers with whom he worked. She learned very early that she wanted to be a part of science the way he was and make a similar impact.
Return to Get to Know NICHD.