Ryan Dale, Ph.D., M.S.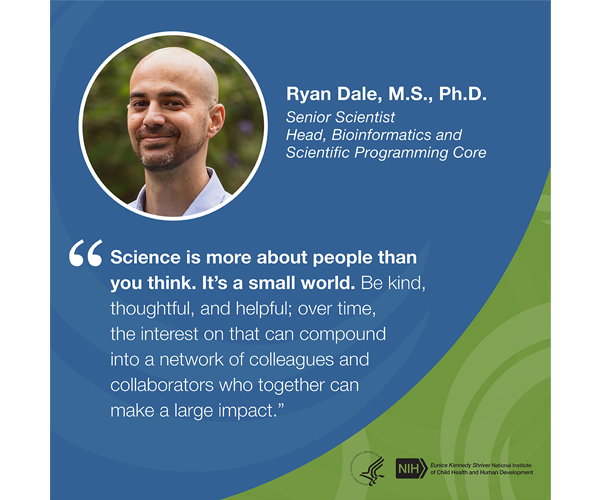 Dr. Ryan Dale's early research experiences spanned from the Midwest prairie to the coastal estuaries of Maine.
Rebecca Rosen, Ph.D.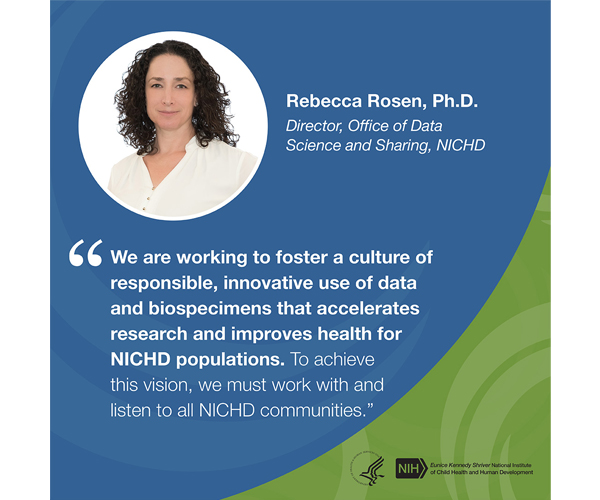 Dr. Rebecca Rosen joined NICHD in July 2021 as the director of the institute's newly established Office of Data Science and Sharing.
Rosalind King, Ph.D.
Through undergraduate coursework, Dr. Rosalind King became fascinated with how individual decisions were reflections of larger patterns in society. Her love for research grew through learning about rigorous techniques for data collection, hypothesis testing, and statistical analysis using interview and survey data.
Samantha Calabrese, M.P.H.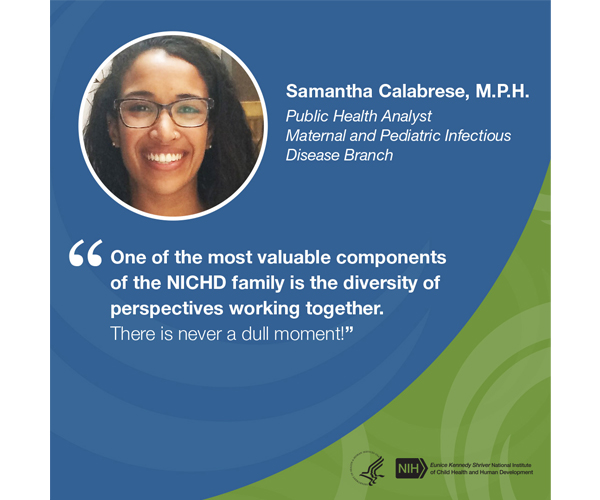 Samantha Calabrese, M.P.H., realized during a conversation with a high school teacher that one day she wanted to work for NIH. As a public health analyst for NICHD's Maternal and Pediatric Infectious Disease Branch, she supports domestic and international research, training, and career development programs in HIV and other significant infectious diseases.
Learn more about Ms. Calabrese.
Travis Kent, Ph.D.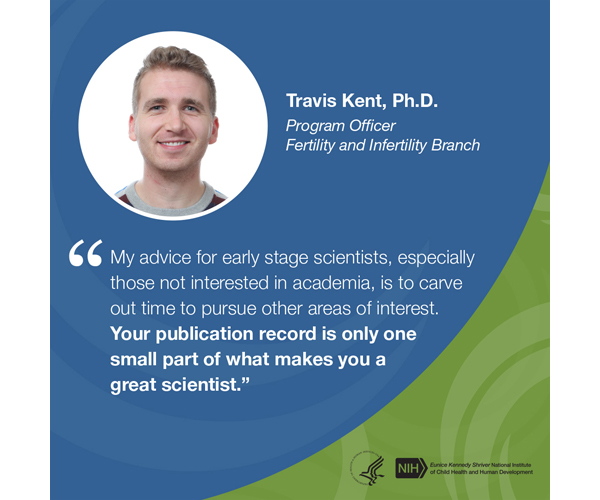 Dr. Travis Kent always had an interest in science and fell in love with the idea of research in college. Graduate school led him to focus on teaching and policy, and a fellowship brought him to a position with NICHD that would eventually lead him to his current position as a program officer with the Fertility and Infertility Branch.
Daniel Johnston, Ph.D.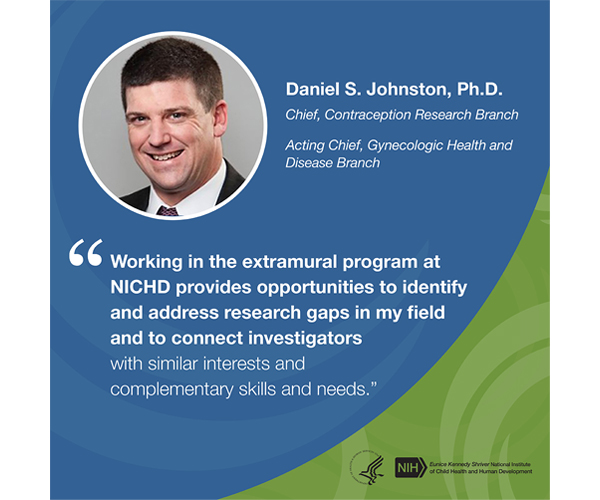 A summer spent as a member of the Jackson Laboratory's summer student program led Dr. Daniel Johnston to change his college focus from medical school to pursuing a Ph.D. in reproductive biology—a decision that would ultimately help lead him to his current position as chief of NICHD's Contraception Research Branch.
Learn more about Dr. Johnston.
Candace Tingen, Ph.D.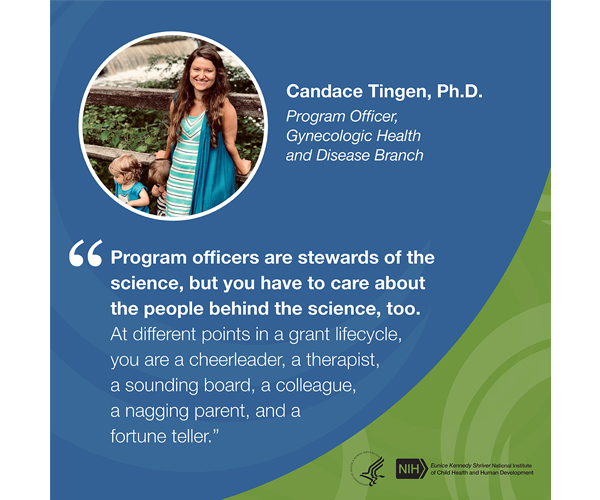 From mixing "cures" using common household ingredients to participating in middle school experiments led by an inspirational science teacher, Dr. Candace Tingen doesn't remember a time when she wasn't interested in science. However, a high school internship at NIH's National Institute of Environmental Health and Sciences was the experience that would introduce her to female reproductive health research—a path that ultimately would lead her to NICHD's Gynecologic Health and Disease Branch.
Sonia Lee, Ph.D.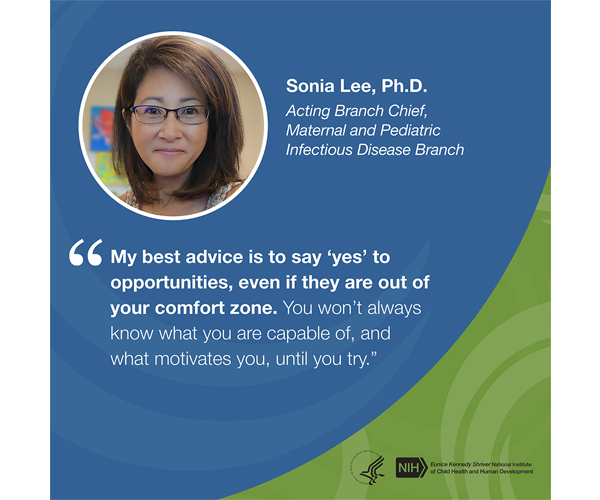 Dr. Sonia Lee's earliest inspiration came from her father, an anesthesiologist who would often take her to the hospital to meet the healthcare providers with whom he worked. She learned very early that she wanted to be a part of science the way he was and make a similar impact.
Paul Williams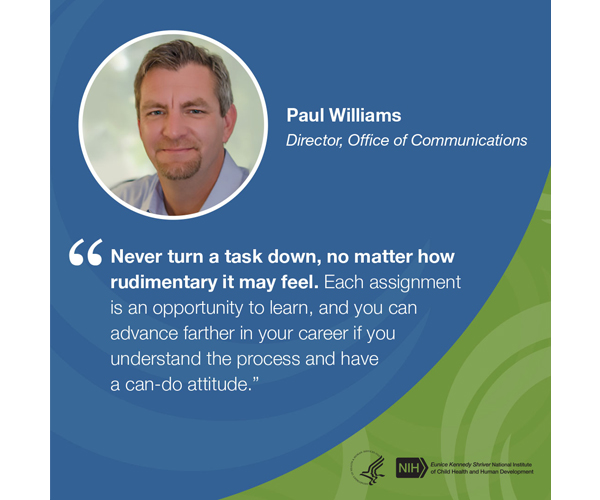 As the director of NICHD's Office of Communications, Paul Williams helps promote NICHD's research initiatives and results. This work enables the public to understand how the institute improves the health and wellbeing of women, children, and people with disabilities.
Learn more about Paul Williams.
Chris McBain, Ph.D.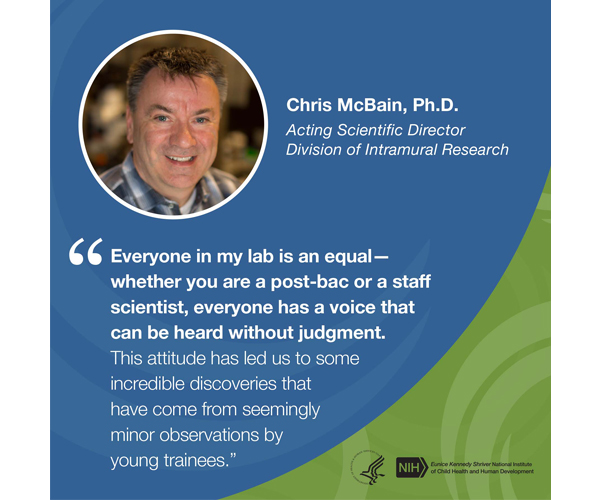 Dr. Chris McBain attributes the start of his interest in science to a chemistry set his parents gave him for his birthday. However, that start took much deeper root thanks to the influence and enthusiasm of high school chemistry and biology teachers, who taught him through early science experiments that science could be fun.
Return to Get to Know NICHD.