Overview/Mission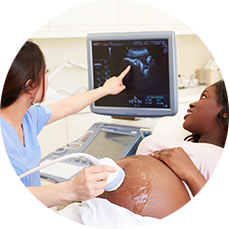 PPB's goals are to improve the health of women before, during, and after pregnancy; increase infant survival; and ensure the long-term health of mothers and their children. Specifically, the branch supports research to understand fetal development and improve ways to diagnose, treat, and prevent diseases in pregnant women and newborns. As the focal point for NICHD extramural research and training in maternal-fetal medicine, neonatology, and related fields, branch staff also engage with and support investigators to identify knowledge gaps and opportunities for scientific advancement.
---
Highlights
Our branch is hiring! Visit our Jobs page to learn more about our PPB Chief listing.
Decoding Maternal Morbidity Data Challenge (on Challenge.gov). NICHD invites innovative approaches to analyzing the Nulliparous Pregnancy Outcomes Study: Monitoring Mothers-to-Be (nuMoM2b) dataset for up to $400,000 in prizes. Winning submissions will identify new research avenues on adverse outcomes, such as hypertensive disorders, diabetes, and infection, and address disparities in these outcomes. Solutions can use computational analysis, data mining, artificial intelligence, and other methods to advance research in maternal health. Submissions are due by 10/15/21.
Branch-funded study: Goldstein R. D., Kinney H. C., & Willinger M. (2016). Sudden unexpected death in fetal life through early childhood. Pediatrics, 137(6), pii: e20154661. doi: 10.1542/peds.2015-4661. PMID: 27230764.
Branch-supported workshops:

Higgins R. D., Saade G., Polin R. A., Grobman W. A., Buhimschi I. A., Watterberg K., Silver R. M., Raju T. N., & Chorioamnionitis Workshop Participants. (2016). Evaluation and management of women and newborns with a maternal diagnosis of chorioamnionitis: Summary of a workshop. Obstetrics and Gynecology, 127(3), 426-36. PMID: 26855098
Reddy U. M., Davis J. M., Ren Z., Greene M. F., & Opioid Use in Pregnancy, Neonatal Abstinence Syndrome, and Childhood Outcomes Workshop Invited Speakers. (2017). Opioid use in pregnancy, neonatal abstinence syndrome, and childhood outcomes: Executive summary of a joint workshop. Obstetrics and Gynecology, 130(1), 10-28. PMID: 28594753

PPB-supported researchers developed a tool using data from the Neonatal Research Network that shows outcome trends for infants born at extremely preterm gestations. To access the tool and learn about the data, visit Extremely Preterm Birth Outcome Data.