Overview/Mission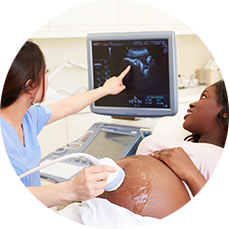 PPB supports research to:
Improve the health of women before, during, and after pregnancy
Reduce the number of preterm births and other birth complications
Increase infant survival free, from disease and disability
Ensure the long-term health of mothers and their children
The branch supports grants, cooperative agreements, and contracts for research ranging from basic science to clinical trials. Some topics of interest include exploring how healthy babies develop and what can go wrong in the process and identifying better ways to diagnose, treat, and prevent diseases in pregnant women and newborns, particularly those approaches that use safe, effective, non- or minimally invasive devices and instruments. PPB also supports training grants for medical researchers in maternal-fetal medicine, neonatology, and related fields.
Burden of Stillbirth and Sudden Infant Death Syndrome (SIDS)
Gaps: Specific and sensitive predictive tests for identifying fetuses and infants at risk for stillbirth and SIDS are lacking.
Priority: Develop specific predictive algorithms that include physiological, biochemical, and genetic markers to predict pregnant women at risk for pregnancy loss or whose infants are at risk for SIDS.
Diabetes during Pregnancy
Gap: Despite our knowledge about pre-gestational diabetes mellitus (GDM), its diagnosis, management, and prevention remain under explored.
Priority: Understand the pathophysiology of outcomes associated with pre-GDM, such as fetal loss, congenital malformations, macrosomia, preeclampsia, and preterm labor. Studies to understand pathogenesis of various complications in the offspring of women with pre-GDM and studies to reduce their prevalence and disease burden are encouraged.
Eliminate Neonatal Pain
Gap: Perinatalpatients suffer from pain inflicted during their health care, and the lack of effective tools and treatments for acute and chronic/neonatal pain and distress has been shown to lead to numerous long-term adverse consequences.
Priority: Develop equipment, devices, tests, and other diagnostic, monitoring, and therapeutic strategies that would eliminate or dramatically reduce the magnitude of pain while routine or intensive care is given to newborn infants.
Global Perinatal Health
Gap: Globally, the highest burden of maternal and infant mortality still occurs among sub-Saharan African and South Asian populations. Despite advances in this area, challenges remain in developing multidimensional and interdisciplinary approaches to facilitate research that will reduce maternal and infant mortality.
Priority: Study interventions to reduce deaths occurring in and around the time of delivery and during the first 24 hours postpartum in international settings.
Normal and Abnormal Placental Biology
Gap: Biochemical and molecular biology processes orchestrating the early development of the normal placenta, and factors leading to abnormal placental structure and function, are not well understood.
Priority: Discover the physiological and molecular mechanisms involved in normal and abnormal placentation, trophoblast invasion, and uterine spiral artery remodeling.
Perinatal Health Disparities
Gap: In the United States, significant racial/ethnic disparities persist in the rates of preterm birth; low birth weight; fetal, neonatal, infant, and maternal mortality; and SIDS. Reasons for these persistent disparities remain poorly understood.
Priority: Support research to understand the mechanisms of disparities, and analyze social determinants of health (individual socioeconomic and community factors, such as crime, poverty, housing, and racial/ethnic makeup), the physical environment, and genetic and epigenetic factors that adversely affect pregnancy outcomes.
Preterm Birth and Its Consequences
Gap: There remains a major gap in understanding the mechanisms that lead to preterm birth and the full extent of its consequences for the neonate.
Priority: Support studies to understand the molecular pathways, psychosocial, and environmental factors involved in causing the various phenotypes of preterm birth and to determine the causal pathways and mitigating factors for the four major morbidities related to extreme preterm birth: intracranial hemorrhage and periventricular leukomalacia, bronchopulmonary dysplasia, cerebral palsy, and retinopathy of prematurity. 
Now in NICHD's Data and Specimen Hub (DASH): Data from these PPB-funded studies: Community Child Health Research Network, Global Network for Women's and Children's Health Research, Maternal-Fetal Medicine Units Network, National Infant Sleep Position Study, and Stillbirth Collaborative Research Network
The NICHD Placental Atlas Tool (PAT) integrates placental data from publications and public databases into a single website for the research community. PAT offers analytic and imaging tools to support placental research. PPB serves as the scientific lead for PAT.
NICHD supported the Cochrane Neonatal Review Group (CNRG)from 1998 through 2017 to provide systematic reviews on neonatology topics. As of Issue 8, 2017, there were 358 published reviews and 103 published protocols. 
PPB worked closely with the Food and Drug Administration and Centers for Disease Control and Prevention (CDC) to conduct the Infant Feeding Practices Study II (IFPS II) from 2005 to 2007. IFPS II was a longitudinal study focusing on infant feeding practices throughout the first year after birth and the diets of women in their 3rd trimesters and at 4 months postpartum. De-identified data from this study are available at the CDC website.
National Infant Sleep Position (NISP) Study: Now-completed study of infant care practices and dissemination of infant sleep position recommendations
Collaborative Home Infant Monitoring Evaluation (CHIME): Now-completed study of home monitors for identifying episodes of infant apnea
NICHD's Data and Specimen Hub (DASH): Browse the DASH catalog to find datasets and specimens from PPB-funded studies
Andrew Bremer, Acting Branch Chief
Stephanie Archer, Clinical Trials Specialist
Main Research Areas: Coordinator for Neonatal Research Network and Maternal-Fetal Medicine Units Research Network; PregSource implementation team member
Maurice Davis, Health Scientist Administrator
Main Research Areas: Perinatal epidemiology; psychosocial issues during and after pregnancy; pregnancy stress, clinical studies; perinatal demographics, family support, and health disparities of pregnancy; conferences: neonatal and pediatric (K grants); pregnancy in women with disabilities; infant outcomes
Reon Holloway, Extramural Support Assistant
John Ilekis, Program Director-Health Sciences Administrator
Main Research Areas: Fetal pathophysiology/programming and developmental origins of disease; placental biology, structure, and function; preeclampsia; perinatal microbiome
Marion Koso-Thomas, Medical Officer
Main Research Areas: Patient safety: neonatal/pediatric care; neonatal resuscitation; Global Network for Women's and Children's Health Research; infant follow-up; neonatal and pediatric immunity; SIDS; training: international and perinatal (K grants and T32 grants); conferences: neonatal and pediatric
Menachem Miodovnik, Medical Officer
Main Research Areas: Gestational diabetes; preeclampsia: clinical science; multiple pregnancies; breastfeeding: maternal issues: patient safety: obstetrics/perinatal care; Global Network for Women's and Children's Health Research; high-risk pregnancy; preterm labor and birth; training: international and perinatal (K grants and T32 grants); conferences: perinatal
Dorothy Tucker, Extramural Support Assistant
David Weinberg, Project Lead
Main Research Areas: Human Placenta Project
---
Highlights
Branch-funded study: Goldstein RD, Kinney HC, Willinger M. (2016). Sudden unexpected death in fetal life through early childhood. Pediatrics. 2016 Jun;137(6). pii: e20154661. doi: 10.1542/peds.2015-4661. PMID: 27230764.
Branch-supported workshops:

Higgins RD, Saade G, Polin RA, Grobman WA, Buhimschi IA, Watterberg K, Silver RM, Raju TN; Chorioamnionitis Workshop Participants. Evaluation and management of women and newborns with a maternal diagnosis of chorioamnionitis: Summary of a workshop. Obstet Gynecol. 2016 Mar;127(3):426-36. PMID: 26855098
Reddy UM, Davis JM, Ren Z, Greene MF; Opioid Use in Pregnancy, Neonatal Abstinence Syndrome, and Childhood Outcomes Workshop Invited Speakers. Opioid use in pregnancy, neonatal abstinence syndrome, and childhood outcomes: Executive summary of a joint workshop. Obstet Gynecol. 2017 Jul;130(1):10-28. PMID: 28594753

PPB-supported researchers developed a tool using data from the Neonatal Research Network that shows outcome trends for infants born at extremely preterm gestations. To access the tool and learn about the data, visit Extremely Preterm Birth Outcome Data.