Overview/Mission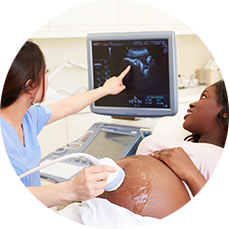 PPB supports research to:
Improve the health of women before, during, and after pregnancy
Reduce the number of preterm births and other birth complications
Increase infant survival free from disease and disability
Ensure the long-term health of mothers and their children
The branch supports grants, cooperative agreements, and contracts for research ranging from basic science to clinical trials. Some topics of interest include exploring how healthy babies develop and what can go wrong in the process and identifying better ways to diagnose, treat, and prevent diseases in pregnant women and newborns, particularly those approaches that use safe, effective, and non- or minimally invasive devices and instruments. PPB also supports training grants for medical researchers in maternal-fetal medicine, neonatology, and related fields.
---
Highlights
Branch-funded study: Goldstein R. D., Kinney H. C., & Willinger M. (2016). Sudden unexpected death in fetal life through early childhood. Pediatrics, 137(6), pii: e20154661. doi: 10.1542/peds.2015-4661. PMID: 27230764.
Branch-supported workshops:

Higgins R. D., Saade G., Polin R. A., Grobman W. A., Buhimschi I. A., Watterberg K., Silver R. M., Raju T. N., & Chorioamnionitis Workshop Participants. (2016). Evaluation and management of women and newborns with a maternal diagnosis of chorioamnionitis: Summary of a workshop. Obstetrics and Gynecology, 127(3), 426-36. PMID: 26855098
Reddy U. M., Davis J. M., Ren Z., Greene M. F., & Opioid Use in Pregnancy, Neonatal Abstinence Syndrome, and Childhood Outcomes Workshop Invited Speakers. (2017). Opioid use in pregnancy, neonatal abstinence syndrome, and childhood outcomes: Executive summary of a joint workshop. Obstetrics and Gynecology, 130(1), 10-28. PMID: 28594753

PPB-supported researchers developed a tool using data from the Neonatal Research Network that shows outcome trends for infants born at extremely preterm gestations. To access the tool and learn about the data, visit Extremely Preterm Birth Outcome Data.