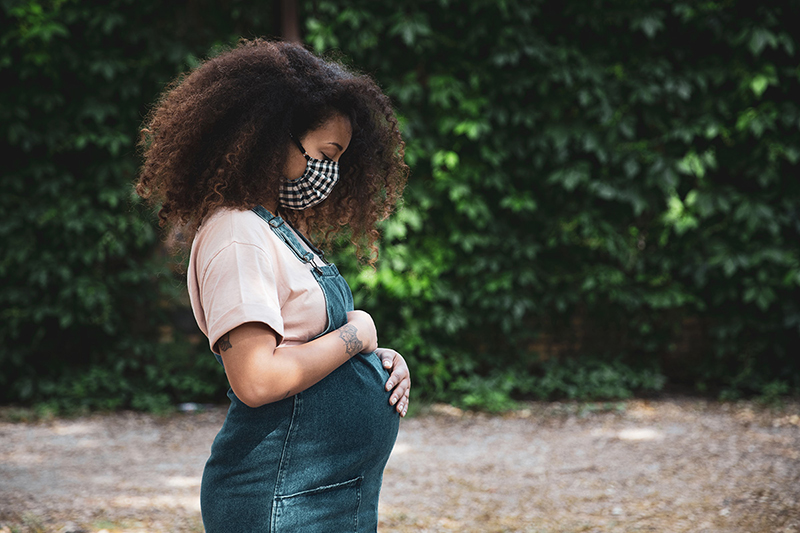 NICHD aims to improve understanding of the effects of COVID-19 infection and disease during pregnancy, in the postpartum period, during lactation, and in newborns. This focus includes making sure that any COVID-related treatments and vaccines are adequately formulated and tested for the specific needs of pregnant and lactating people. Among its efforts are co-leading, with the National Institute on Drug Abuse (NIDA), the Trans-NIH COVID-19 Workgroup on Pregnant & Lactating Women and Children, which coordinates NIH's Strategic Response Activities for these populations.
Some NICHD research activities on COVID during pregnancy and postpartum include the following:
In the Gestational Research Assessments for COVID-19 (GRAVID) study, NICHD-funded researchers will analyze medical records of up to 24,500 women who have given birth recently at a clinical center within NICHD's Maternal-Fetal Medicine Units (MFMU) Network. This group of 12 U.S. clinical centers covers more than 160,000 deliveries per year and has appropriate racial, ethnic, and geographic diversity to allow researchers to generalize study findings to the U.S. population.

The study will evaluate whether pregnant and immediately postpartum women experience increased morbidity and mortality during the COVID-19 pandemic than before it; whether pregnant women with SARS-CoV-2 experience higher morbidity and mortality than pregnant women who don't have SARS-CoV-2; and describe maternal and neonatal outcomes data for pregnant and immediately postpartum women with confirmed SARS-CoV-2 infection.
Preliminary findings from the GRAVID study suggest that severe COVID-19 during pregnancy is associated with preterm birth and other complications.

NIH is supporting a 4-year follow-up study with some participants of the GRAVID study to understand the potential long-term effects of COVID-19 on women infected with SARS-CoV-2 during pregnancy. This study is part of NIH's Researching COVID to Enhance Recovery (RECOVER) initiative , which seeks to understand, prevent, and treat post-acute sequelae of SARS-CoV-2 (PASC), the long-term effects of infection that persist after a person should feel better.
NICHD is conducting a study similar to the MFMU Network study to estimate the prevalence of SARS-CoV-2 infection during pregnancy at eight sites within the NICHD-funded Global Network for Women's and Children's Health Research. Using antibody testing at delivery, the study seeks to compare the maternal, fetal, and neonatal outcomes of women infected with SARS-CoV-2 to those of non-infected women. The study will enroll approximately 2,000 pregnant women for each site in Kenya, Zambia, Guatemala, India (Belagavi and Nagpur), Democratic Republic of the Congo, Pakistan, and Bangladesh.
NICHD's Pregnancy Research Branch is studying the effects of COVID-19 on pregnant women who give birth at Detroit Medical Center in Michigan.
NICHD is also supporting researchers at the Johns Hopkins Center for Humanitarian Health in compiling a repository of recent peer-reviewed journal articles on COVID-19, breastfeeding, infant feeding, and breast milk .
An NICHD-funded effort will also evaluate the effects of remdesivir in pregnant women who have been prescribed the drug to treat COVID-19.
NICHD-funded researchers also recently reported that getting the COVID-19 vaccine during pregnancy boosts maternal and newborn immunity.
The Trans-NIH COVID-19 Workgroup on Pregnant & Lactating Women and Children supported studies to understand the effects that SARS-CoV-2 infection and the pandemic are having on pregnant women and the neurobehavioral development of their offspring, including investigations of opioid exposure and neurodevelopment (iOPEN) and the cumulative risk of substance exposure and early life adversity on child health development and outcomes. The workgroup is also among other research groups adapting interventions to account for the added influence of COVID-19 for high-risk populations, including pregnant women exposed to interpersonal violence, and women experiencing postpartum depression.
NICHD Director Diana W. Bianchi, M.D., led the call for inclusion of pregnant and lactating people in COVID-19 vaccine research in a Director's Corner.
Dr. Bianchi also used her Director's Corner to discuss NIH-wide efforts to understand PASC. NICHD will be studying pregnant and postpartum people who are among these so-called "COVID long haulers."