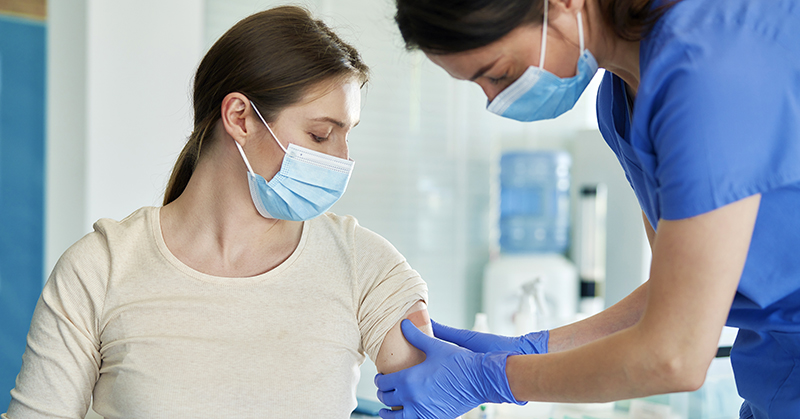 The health of pregnant individuals and new mothers in the nation's prisons should be prioritized to avoid future public health crises from COVID-19, according to an analysis by NICHD-funded investigators. Recommended policy changes include early release, when possible, because pregnant people are at high risk from COVID-19, and prisons are not well-equipped to provide the necessary medical care. Moreover, prisons should promote COVID-19 vaccination and develop targeted messages for this population to counteract vaccine misinformation.
The analysis, conducted by Rebecca Shlafer, Ph.D., of the University of Minnesota, and colleagues, appears in the University of Saint Thomas Law Journal. It results from Pregnancy and Postpartum Support Programs for Women in Prison: Maternal and Neonatal Outcomes, an NICHD-funded project on developing pregnancy and postpartum support programs to improve maternal health in prisons.
Women in U.S. prisons comprise 30% of incarcerated women worldwide, the study authors wrote. Prison systems generally do not collect data on pregnancy at prison intake, but researchers estimated that more than 56,000 pregnant women were taken into custody from 2016 to 2017. Although few studies have been conducted, a small body of international research suggests that mothers are at high risk for poor mental health when they are separated from their infants after birth.

The spread of COVID-19 likely was enhanced by prison conditions during the initial phases of the pandemic, including crowded living conditions, poor ventilation, and unsanitary environments. At the time, SARS-CoV-2 infections were three times higher in prisons than among the general population, and deaths were two and half times higher.
Little information is available on the postpartum care provided to incarcerated new mothers. However, the early pandemic practice of quarantining patients for 10 to 14 days when they returned to the prison from birthing facilities after giving birth likely exacerbated the depressive symptoms new mothers felt after separation from their infants.
In addition to early release and vaccination, the authors recommended that pregnant and postpartum people in prisons be offered frequent opportunities to ask questions about their health and about vaccines from health care providers they trust. Currently, the medical care of incarcerated pregnant and postpartum people varies greatly among prisons. The authors called for uniform maternal care policies and practices across all the nation's prisons that are responsive to patients, equitable, and evidence-based.
Reference
Corbett, A, et al. The impact of the COVID-19 pandemic on the care and treatment of pregnant, birthing, and postpartum people in prisons in the United States. University of St. Thomas Law Journal. 2023.