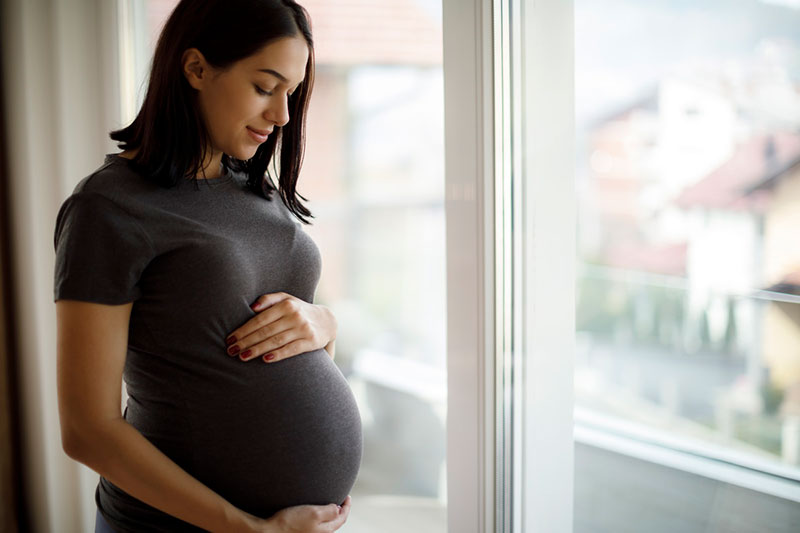 Uterine fibroids during pregnancy do not appear to result in undersized newborns, suggests a study by researchers at the National Institutes of Health. The finding allays concerns from previous studies that fibroids might result in smaller-than-normal infants. In fact, the study found that infants born to mothers with fibroids had slightly larger head, arm and thigh circumferences, though not to the extent that they would interfere with birth. The researchers also confirmed prior results suggesting a link between fibroids and increased risk for preterm birth.
The study was conducted by Susanna D. Mitro, Ph. D, former postdoctoral fellow, and Katherine L. Grantz, M.D., M.S., in the Epidemiology Branch of NIH's Eunice Kennedy Shriver National Institute of Child Health and Human Development (NICHD) and colleagues at other institutions. It appears in the Annals of Epidemiology.
Background
Uterine fibroids, or leiomyomas, are tumors that grow in or on the wall of the uterus. They can cause pain and abnormal bleeding. Fibroids affect roughly 11% of pregnancies and may result in such pregnancy complications as premature rupture of the membranes and placental abruption. Some studies also have linked fibroids in pregnancy to lower birthweight and a 40% higher risk of preterm birth.
The researchers analyzed data from a previous study that used ultrasound throughout pregnancy to track the development of fetuses to determine whether fibroids could potentially influence fetal body proportions.
The study included 2,578 pregnant women who had up to six ultrasounds. Of these, 245 had fibroids.
Results
Average infant birthweight did not differ between the two groups. However, compared to pregnancies without fibroids, infants from pregnancies with single fibroids had head circumferences that were an average of .3 centimeters larger. Those from pregnancies with multiple fibroids had .3-centimeter larger arm circumferences and those from pregnancies with a small total volume of fibroids had .7 centimeter larger head circumferences, .4 centimeter larger arm circumferences, and .7 centimeter larger thigh circumferences.
Pregnancies with fibroids had from 1.73 to 2.65 times greater risk of preterm birth.
Significance
"The main takeaway of this study is actually good news," Dr. Mitro said. "Among low-risk pregnancies, having fibroids doesn't seem to increase the risk of severe maternal morbidity, cesarean delivery, or babies that are too small at birth."
She added that, although fetuses from pregnancies with fibroids were slightly larger, the size differential was not enough to cause problems at delivery.
The study wasn't designed to prove cause and effect. However, the authors theorized that fibroids may dilate uterine arteries and promote the growth of new blood vessels in the uterus, thereby increasing blood flow to the uterus. Another explanation is that fibroids could have contributed to increased fetal growth because they produce estrogen. Previous studies have linked higher maternal estrogen levels with increased fetal size.
Dr. Mitro also noted that the study confirmed a higher risk of preterm birth among pregnancies with fibroids.
Next Steps
The authors called for further studies to explore biological processes underlying their findings and to investigate potential implications for newborn health.
Reference
Mitro, SD, et al. Leiomyomata, neonatal anthropometry, and pregnancy outcomes in singleton pregnancies. Annals of Epidemiology. 2023.