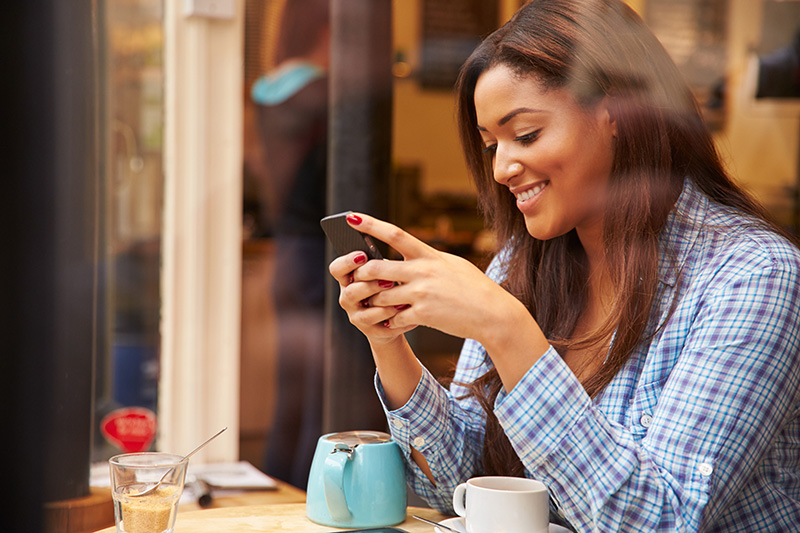 In the summer of 2019, the U.S. women's soccer team made headlines when they won the World Cup and used period tracking, or menstrual tracking, to tailor training and resources to optimize each player's performance. While most people are not world-class athletes, adolescents and women across the world deal with menstrual cycles and the symptoms and challenges they can bring. What if tracking women's periods could provide knowledge and resources to similarly optimize their own well-being? Or better yet, what if menstruation became an opportunity to assess their health?
"Think of menstruation as another vital sign," said Candace Tingen, Ph.D., a program officer in NICHD's Gynecologic Health and Disease Branch. "Menstruation, as a health metric like heart rate or blood pressure, is something women could track in the comfort of their own homes—an advantage highlighted by the current COVID-19 crisis that has forced many of us to socially isolate," she added.
Developing a "Smart" Tampon and Other Innovative Research
NICHD has supported gynecologic and reproductive health research for decades, and its importance is reinforced by its inclusion as one of five themes in the institute's latest strategic plan. NICHD is especially interested in the basic biology that underlies healthy reproductive development and how that biology can lead to new avenues for addressing gynecologic conditions, from understanding the cause of a condition to better diagnosing or treating it.
NextGen Jane
is a small business that is developing a non-invasive diagnostic for endometriosis and other gynecological conditions by using menstrual effluent—the biomaterial that women shed every month and is usually thrown away. NICHD funding is helping the company test whether compounds, called miRNA and mRNA, in menstrual effluent can be analzyed for disease-identifying patterns. This research on a "smart" tampon for identifying diseases mirrors the growing femtech industry, which uses software, diagnostics, products, and services to improve women's health.
Kristen Matteson, M.D., M.P.H, a former NICHD grantee at Brown University, is a leading expert in heavy menstrual bleeding, which can have a big impact on a woman's health and quality of life. Dr. Matteson's research explores clinical therapies for women with heavy periods and better ways for patients to report their outcomes and well-being, so that healthcare providers can assess whether a treatment is working.
Missy Lavender is another NICHD grantee who focuses on women's health education and overcoming societal stigmas related to menstruation. She is developing an app to teach adolescents and their parents about pelvic health, including menstruation and menstrual problems, such as heavy or skipped periods.
NICHD also created a new research program at the NIH Clinical Center, the world's largest research hospital. The Pediatric and Adolescent Gynecology Program, led by Veronica Gomez-Lobo, M.D., highlights a relatively new subspecialty in obstetrics and gynecology that focuses on children and teenagers. The program's goals are to study gynecologic disorders that begin before puberty and to better understand gynecologic diseases and infertility and fertility. The program focuses on several disorders that can cause amenorrhea—the absence of a menstrual period. These conditions include primary ovarian insufficiency, Turner syndrome, and androgen insensitivity syndrome. The team also runs a clinic at Children's National that evaluates heavy menstrual bleeding in teens.
The NICHD BioCycle Study, led by Enrique F. Schisterman, Ph.D., has resulted in more than 70 scientific papers on women's health. The study explores how diet and lifestyle affect the menstrual cycle, hormones, and a woman's risk for other diseases. The findings have practical implications, such as timing certain doctor visits to a patient's menstrual cycle phase, as well as clinical insights, such as how to better design clinical studies that include women of reproductive age. Other findings include understanding how sleep patterns change over the menstrual cycle and potential links between tampon use and exposure to metals or chemicals.
Calling the Research Community to Action
Recently, the American Journal of Obstetrics and Gynecology published a pair of papers that highlight work led by NICHD from a national meeting called Menstruation: Science and Society. The meeting incorporated the science of menstruation with broader societal implications and introduced the growing femtech industry. Investigators were challenged to include menstrual status in all of their research projects and to consider menstruation as a model for understanding other health issues, such as tissue loss and regeneration, as well as cell invasion and metastasis in cancer.
Studying menstrual health also provides a means to ask broader questions that can be addressed by the scientific and healthcare community: How do we deliver essential health supplies globally or during a crisis? In what ways are health literacy or stigma limiting optimal patient care? How are underserved populations, like women of diverse racial or ethnic backgrounds or women with disabilities, best served by the biomedical community?
"Approaching menstruation as a vital sign provides a range of research opportunities in areas that touch the lives of teens and women throughout the world," Dr. Tingen noted.
For more information on menstrual health and women's health research supported by NICHD, check out the following resources.
Resources
Menstruation: Science and Society meeting:
Tingen C et al., Revisiting menstruation: the misery, mystery, and marvel. AJOG DOI: https://www.ajog.org/article/S0002-9378(20)30622-0/fulltext
(2020)
Critchley H et al., "Menstruation: Science and Society" meeting, NIH: Eunice Kennedy Shriver National Institute of Child Health and Human Development, Bethesda, Maryland, USA 20-21 September 2018. AJOG DOI: 10.1016/j.ajog.2020.06.004
(2020)
NICHD research programs:
Health topics: