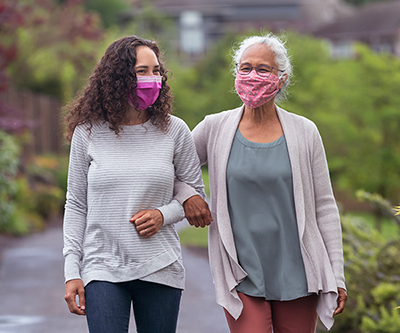 NICHD has led advances in women's health for nearly 60 years.
The institute's supported research galvanizes new conversations around previously "taboo" topics, such as menstruation. NICHD-led research advocates the use of menstruation as a "vital sign," meaning it can serve as a health metric, like blood pressure, to assess a woman's well-being. Scientists and small businesses funded by NICHD are developing innovative technologies, including a "smart" tampon that can potentially diagnose gynecologic conditions in a non-invasive manner, using menstrual effluent that is otherwise thrown away.
In addition, NICHD supports research to better understand, diagnose, and treat endometriosis, a gynecological condition that can cause debilitating pain and infertility. One team of NICHD-funded researchers reported links between endometriosis and a type of DNA modification called DNA methylation. The findings raise the possibility that differences in DNA methylation patterns could be used to diagnose endometriosis and develop customized treatment plans for women.
Polycystic ovary syndrome (PCOS) is another gynecological condition. It's related to a hormone imbalance and can cause menstrual cycle changes, skin problems, cysts in the ovaries, and infertility. NICHD-supported researchers found that PCOS may have at least two different subtypes. The findings provide important information on the possible causes of PCOS. It may also help researchers develop more personalized ways to treat the condition.
In another women's health advance, a group of NICHD-funded researchers developed a way to potentially shrink uterine fibroids in a non-invasive manner. Uterine fibroids are sometimes painful, noncancerous tumors that form in the uterus. They can cause abnormal uterine bleeding and infertility and can severely affect a woman's quality of life. The researchers' method involves encasing a tumor-killing drug in nano-sized spheres called liposomes and delivering them directly to the fibroids through the bloodstream. Their findings in mice set the stage for studies to determine if the method is safe and effective for treating fibroids in women.
NICHD-supported researchers also found that surgery to treat pelvic organ prolapse, a pelvic floor disorder, reduced dyspareunia, or pain during sexual activity, in 3 out of 4 women. The study team found that it is very rare for women to develop dyspareunia after prolapse surgery, with less than 4% of women in their study reporting this new symptom after surgery. They also found that in many cases, women who experience painful intercourse already had this issue before prolapse surgery. The findings will help women who have pelvic floor disorders and their healthcare providers decide on the best treatment approaches.
Finally, NICHD-supported researchers are exploring better contraceptive methods for women, particularly non-hormonal options that woman can use on demand. Researchers are also developing contraceptives that offer protection against sexually transmitted infections (STIs), giving women better control over their reproductive health and well-being. One group is researching a vaginal film that serves as a contraceptive via antibodies that recognize, trap, and clump sperm together. This NICHD-supported team is also testing whether this method can offer another level of protection against common STIs, including HIV and herpes simplex virus. The researchers currently are working toward a phase 1 clinical trial to evaluate the film as a contraceptive.