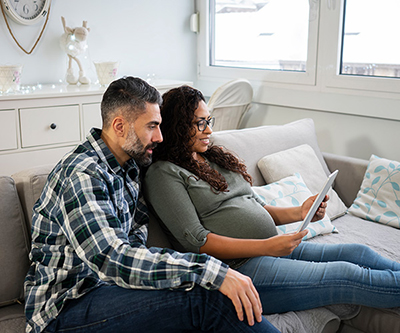 NICHD research helps ensure access to clinical trials so that people from all backgrounds can benefit from advances in biomedical research.
In 2020, the NICHD-led Task Force on Research Specific to Pregnant Women and Lactating Women (PRGLAC) sent an implementation plan to the Secretary of Health and Human Services to help ensure that clinical research, such as trials for drugs and therapies, addresses the needs of pregnant women and nursing mothers. The authors wrote that inclusion of pregnant women and nursing mothers in vaccine and treatment trials during the current SARS-CoV-2 pandemic illustrates why these groups ought to be included, rather than excluded, from studies. They added that the culture of "protecting" pregnant women and nursing mothers from research can actually endanger their health.
To expand the reach of its crowdsourcing pregnancy research project, NICHD launched a Spanish version of PregSource®. The project aims to establish a comprehensive picture of the pregnancy experience to inform strategies for improving maternal and obstetric healthcare. By providing questionnaires and information in both English and Spanish, PregSource® can expand participation and gather data from more diverse audiences.
NICHD-supported researchers also reported on a telehealth approach to improve clinical trial access for infants with tuberous sclerosis complex, a rare genetic syndrome that increases a person's risk for autism spectrum disorder. Earlier diagnosis and treatment provide better support and outcomes for children and their families. In addition, the findings can serve as a model for other studies, not just for rare conditions, to improve clinical trial access for families with limited financial or clinical resources.
In another study, NICHD-funded researchers adapted a tool commonly used in neuroscience research to ensure that people with intellectual disabilities can still participate. The tool, called the NIH Toolbox Cognitive Battery, helps researchers assess cognitive functioning of adults and children. The study team's adaptations mean the tool can now measure the cognitive ability of children with intellectual disabilities who have a mental age of 5 years and older, providing objective measures that could be used in a wide variety of studies.