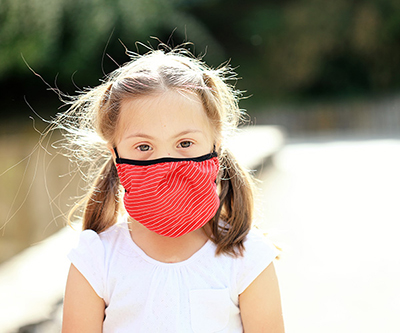 People with intellectual or developmental disabilities (IDDs) and children are central to NICHD's history and establishment. The institute has ensured these populations are not overlooked in COVID-19 research efforts.
NICHD-funded researchers called attention to the disproportionate toll that the COVID-19 pandemic is taking on people with IDDs. The researchers explained how large numbers of children and adults with IDDs who require special educational services or in-person care have lost the support of trained educators, caregivers, and community service providers. The researchers emphasized the need to prioritize in-person services, provide qualified in-home aids, and ensure that people with IDDs have equal access to testing and medical care.
NICHD is also participating in NIH's Rapid Acceleration of Diagnostics (RADx) initiative—a national call for scientists and organizations to develop innovative ideas for COVID-19 testing strategies. One component of this effort is called RADx-Underserved Populations (RADx-UP), which is establishing a network of community-engaged projects to improve access to and acceptance of COVID-19 testing for underserved and vulnerable populations. This includes populations most affected by health disparities, particularly African Americans, Hispanics or Latinos, and American Indians/Alaska Natives; those in nursing homes, jails, rural areas, or underserved urban areas; pregnant women; those with disabilities; and the homeless. For example, one project will use a rapid, saliva-based COVID-19 testing platform
to test students, teachers, and staff in special education schools in the St. Louis area. The researchers hope to assist with a safe return to school and access to educational interventions that are vital for children with disabilities.
Children account for about 12.4% of the total number of COVID-19 cases
(PDF 1.5 MB) in the country. Whereas most children typically have a mild case, or are even asymptomatic, a small percentage of children develop severe post-infection complications.
The institute leads efforts on Multisystem Inflammatory Syndrome in Children (MIS-C), a serious complication of COVID-19 in children and adolescents that results in severe, sometimes fatal, inflammation of organs and tissues. An NICHD-led project, called Predicting Viral-Associated Inflammatory Disease Severity in Children with Laboratory Diagnostics and Artificial Intelligence (PreVAIL kIds), is part of NIH's RADx-rad initiative. It encourages studies of genetic, immune, viral, environmental, and other factors that may lead to interventions that may help improve their outcomes. Through this program, NIH awarded eight research grants to develop approaches for identifying children at high risk for MIS-C.
NICHD also supports MIS-C and other pediatric COVID-19 research through its Pediatric Trials Network, which includes diverse sites across the nation. Researchers in this NICHD-supported network are studying children hospitalized with MIS-C to learn more about the condition and how to best treat it. They are also evaluating drugs prescribed to treat COVID-19 in infants, children, and adolescents. Many drugs are not tested specifically for use in children, so physicians often prescribe drugs off-label because they lack an alternative, approved treatment for a disease or condition. The NICHD study is gathering information to refine dosing and evaluate safety for pediatric populations during the pandemic. Importantly, the study includes special populations, including premature infants, critically ill children, children with Down syndrome, and obese children.