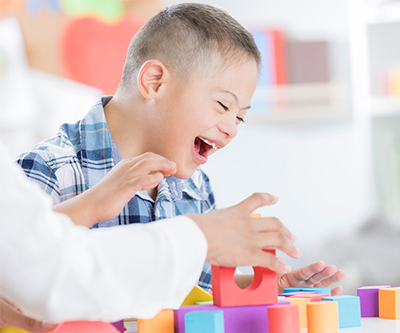 NICHD's namesake, Eunice Kennedy Shriver, was an advocate for people with intellectual and developmental disabilities (IDDs). Today, the institute remains a leader in research on IDDs.

One study from NICHD researchers found that a plant compound called apigenin improved the cognitive and memory deficits usually seen in a mouse model of Down syndrome. The researchers fed apigenin to pregnant mice carrying fetuses with Down syndrome characteristics, and then again to the animals after they were born and as they matured. The findings raise the possibility that a treatment to improve cognitive outcomes for people with Down syndrome could one day be offered to expectant women who receive a diagnosis through prenatal testing.
Another NICHD-funded study reported risk estimates for autism spectrum disorder (ASD) for children whose aunts or uncles have the condition. The study team found that roughly 3 to 5% of these children can also be expected to have ASD, compared to about 1.5% of children in the general population. The results offer important new information for counseling people who have a sibling with ASD. This work also suggests that females are not more protected from genetic factors that increase the risk of autism (the so-called "female protective effect") because the increased risk was the same whether a child's mother or father had a sibling with ASD.
NICHD-supported researchers also developed a test to measure the expressive language skills of people with Fragile X syndrome, a genetic disorder that may result in intellectual disability, cognitive impairment, and symptoms of ASD. Expressive language refers to the use of words to convey meaning to others. The researchers developed the test to provide an objective way to measure improvement in language. In addition to helping manage the health of people with Fragile X syndrome, the test may also increase their participation in clinical studies and future clinical trials.
Finally, NICHD-funded researchers found that mutations in a gene called RAD9B are risk factors for spina bifida, a birth defect that occurs when the spinal column does not form properly during the first trimester of pregnancy. Spina bifida is a type of neural tube defect and can cause physical and mental disabilities ranging from mild to severe, and these findings help to improve our understanding of normal, healthy neurodevelopment, which can lead to better diagnosis and treatments for people with neural tube defects.