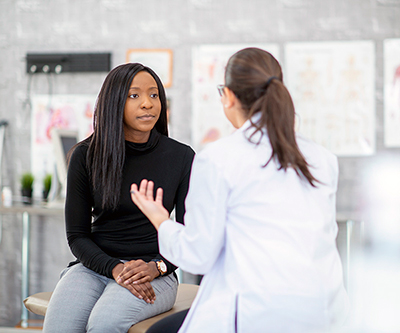 From injury differences to gynecological conditions to restorative procedures, NICHD continues to support research that addresses women's unique health needs.
NICHD-funded researchers studying endometriosis, a chronic condition that causes pain and infertility, reported that antibiotic therapy reduces endometriosis progression in mice, possibly by reducing specific gut bacteria. Researchers discovered that treating mice with broad-spectrum antibiotics reduced inflammatory responses and the size of endometriotic lesions. The findings suggest that gut bacteria promote endometriosis progression in mice. Further studies are necessary to determine which gut bacteria species promote inflammation and disease progression and to assess whether these findings apply to humans.
Findings from a study co-funded by NICHD indicated that surgery for stress urinary incontinence (leakage that occurs with an exertion such as a cough or sneeze) improves symptoms of another form of incontinence, called urgency urinary incontinence, in women who have both types. Urgency urinary incontinence results from the spontaneous contraction of the bladder muscles, which can lead to a strong and sudden need to urinate or to urine leakage. These findings challenge current treatment guidelines, which caution that surgery to treat stress incontinence might worsen urgency urinary incontinence in women with both forms of it, collectively called mixed urinary incontinence.
Another group of researchers co-funded by NICHD reported that two surgical procedures used to correct vaginal prolapse—one involving removing the uterus compared to supporting the uterus with mesh—have comparable three-year outcomes. The U.S.-based Study of Uterine Prolapse Procedures - Randomized Trial compared mesh hysteropexy to hysterectomy with uterosacral ligament suspension. The researchers used a standard examination called the Pelvic Organ Prolapse Quantification System to compile a failure rate for each procedure and tracked whether women reported new symptoms of prolapse or needed retreatment for prolapse. The researchers found no differences in patient-reported outcomes on surgical pain, pelvic pain, and body image. The study team also found no significant differences in adverse events, such as urinary tract infections and incontinence, between the two groups. Rates of mesh complications were low. More long-term research is needed to determine whether one procedure is better than the other.
NICHD-funded researchers also reported that women and girls are more likely than males to have a neck injury in tandem with a concussion. The researchers noted that women tend to have smaller neck bones and less muscle mass compared with men of comparable height, which could place them at higher risk than men for neck injuries after concussions. Since neck injuries occurring with concussions have been linked to persistent post-concussion symptoms, physicians evaluating female patients who have had a concussion may want to consider the possibility that those patients also have a neck injury.