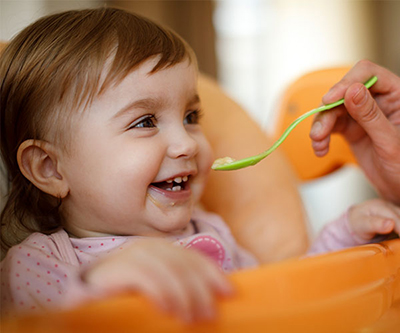 Understanding the impact of nutrition in pregnancy and infancy can help babies get a healthy start in life. Learn how NICHD research helps improve our knowledge of nutrition across the lifespan.
NICHD researchers found that women who had healthier eating habits when they got pregnant and during early pregnancy were less likely to experience gestational diabetes or high blood pressure disorders of pregnancy, or to have a preterm birth. In fact, a healthy diet reduced the risk of preterm birth by as much as 50 percent among the study participants. The findings underscore the importance of nutrition in reducing the risk of pregnancy complications.
In a separate study, women who took a daily higher dose of the omega-3 fatty acid DHA (docosohexanoic acid) in the first half of pregnancy had a lower rate of early preterm birth than those who took the standard amount of DHA included in prenatal supplements. The effect was most dramatic among women who had low levels of DHA at the start of the study. The NICHD-funded authors called for screening DHA levels in pregnancy so that people with low levels could consider taking a higher daily dose.
In another NICHD-led study, researchers reported that women who consumed moderate levels of caffeine—equivalent to as little as half a cup of coffee a day on average—during pregnancy gave birth to slightly smaller babies than pregnant women who did not consume caffeinated beverages. The authors recommend that pregnant women avoid caffeine until more data is available and should discuss caffeine consumption concerns with their healthcare providers.
A group of researchers, including scientists at NICHD, put out a call for more research to understand human breastmilk as a biological system. This means evaluating all the components in breastmilk—nutrients as well as immune factors and other bioactive elements—at the various stages of lactation—from the first minutes after birth to the age when children eat other foods. Such a comprehensive study of breastmilk can help researchers provide the evidence to inform policy makers and develop better ways to optimize child health from infancy.
Researchers supported by NICHD also study nutrition among children. Children who started drinking juice before they were 6 months old drank more juice and soda as toddlers and young children than those first given juice when they were 12 months or older, according to one study conducted by researchers at NICHD. The children who were given juice earlier also tended to drink less water at ages 2, 3, and 7. The findings underscore concerns that giving children sweet foods and drinks at an early age fosters a preference for sweet tastes, increasing the risk for childhood weight gain and tooth cavities.
By studying the early impact of nutrition, NICHD strives to ensure that children are set on a healthy trajectory for growth and development from their first feeding.