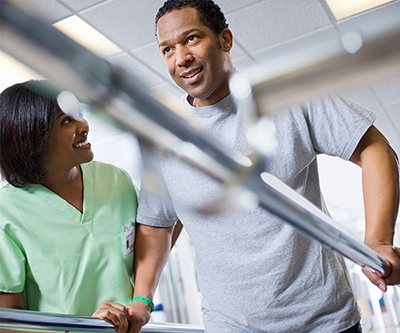 Research supported by NICHD has led to new or improved therapies and treatments for many different health conditions.
Through the National Center for Medical Rehabilitation Research, NICHD has made advances in recovery after a stroke and other injuries. One group of researchers funded by NICHD identified a critical time window for improving motor skills, including movement of the affected hand or arm. They found that this type of rehabilitation should occur about two to three months after a person had a stroke. The findings may provide a breakthrough to make substantial improvements in arm and hand recovery. In another study, NICHD-supported researchers evaluated the intersection of virtual rehabilitation and a stroke patient's social network. They discovered that certain aspects of a person's social network, such as its size and density, correlate with improved motor skills and better mental health. These findings can help researchers maximize the effects of virtual rehabilitation for stroke, especially in light of the COVID-19 pandemic, when socialization may be more restricted, and telehealth is used more often.
NICHD-funded research also benefits children. One team of researchers evaluated treatments for children with hemiparetic cerebral palsy, a movement disorder that affects use of one side of the body. Children who received a high-dose (60 hours) of constraint-induced movement therapy had the greatest improvements on a variety of upper extremity skills, such as grasping, moving, manipulating objects, and self-care activities. Another group of NICHD-supported investigators developed a way to prevent children with spinal cord injury from developing scoliosis—a curvature in the spine. They tested a treatment typically used in adults with spinal cord injury called transcutaneous spinal stimulation. The researchers found that this therapy is safe and well tolerated by children and can enable them to sit in an upright posture, which helps prevent scoliosis.
NICHD also supports research on uterine fibroids, which are the most common type of non-cancerous tumors in women of childbearing age. One team of researchers found that a drug typically prescribed to treat high cholesterol, simvastatin, may also be effective at shrinking uterine fibroids. To better understand how the drug works, the study team examined simvastatin's effects on estrogen signaling. They found that the drug prevents estrogen receptors from getting to a cell's surface, and it also causes these receptors to degrade. By blocking estrogen signals, simvastatin deprives uterine fibroids of an important growth signal.
Another team of NICHD-funded researchers evaluated a treatment for a rare but disabling form of morning sickness called hyperemesis gravidarum. Pregnant women who have this condition have such persistent nausea and vomiting that they may need to be hospitalized. They also have trouble gaining sufficient weight during pregnancy, which may cause adverse fetal outcomes. In a small clinical study, the researchers reported that the drug gabapentin was more effective than standard-of-care therapy. Treatment with this drug helped reduce nausea and vomiting and improved nutrition.
NICHD-supported research helps patients of all ages and stages of life recover from injuries, manage chronic or temporary health conditions, and improve their quality of life.