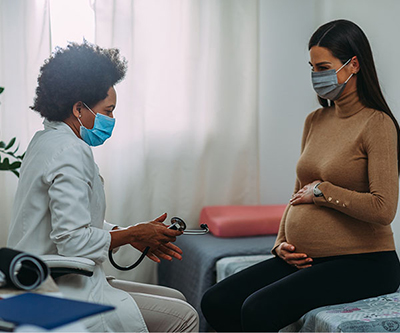 At the beginning of 2021, NICHD Director Diana W. Bianchi, M.D., and colleagues called for greater inclusion of pregnant and lactating people in COVID-19 vaccine research. Pregnant and lactating individuals need to make important decisions about their healthcare, just like everyone else. However, longstanding obstacles to including pregnant and lactating people in vaccine research mean that they must make decisions without the benefit of scientific evidence.
NICHD took important steps toward providing evidence to help pregnant women make decisions about vaccination. One study found that vaccines are effective in pregnant women. These findings are especially important because pregnant women are more likely than their nonpregnant peers to have severe infection with COVID-19. The study also found that antibodies produced by the mother after vaccination travel across the placenta and into breastmilk—conferring immunity to newborns who are not currently eligible for their own vaccines. Another study found no serious adverse effects from the vaccines in breastfeeding women or their children. The findings add evidence about the safety of COVID-19 vaccination for nursing mothers and their children.
One NICHD-supported team investigated how COVID-19 affects pregnant women. The researchers found that pregnant women with severe symptoms of COVID-19 had a higher risk of complications during and after pregnancy. Compared to asymptomatic pregnant women, , those with severe symptoms were at higher risk for cesarean delivery, postpartum hemorrhage, hypertensive disorders of pregnancy, and preterm birth. The study team also found that transmission of the SARS-CoV-2 virus from mother to child was rare.
SARS-CoV-2 infection during pregnancy has also been linked to complications that may involve or be reflected in the placenta, including preeclampsia and preterm birth. However, researchers have used a variety of methods to diagnose infection of the placenta, making it difficult to compare results from different studies. To address this issue, NICHD convened an expert panel to recommend standardized criteria for defining placental infection. The panel's recommendations will make it easier to synthesize information across studies and, ultimately, help to better understand the risks of placental infection with SARS-CoV-2.
The institute also launched a study to evaluate potential long-term effects of COVID-19 in pregnancy. Researchers will follow people who had SARS-CoV-2 infection (asymptomatic or symptomatic) during their pregnancies over a four-year period. The study team will also evaluate the infants who were exposed to SARS-CoV-2 in utero for possible neurologic symptoms and cardiovascular conditions as they grow older.
Another study investigated how pregnancy influences the way the immune system responds to infection with COVID-19. The study built on findings that COVID-19 is more prevalent and more likely to be severe among men and boys than among women and girls. The researchers found that pregnant women's immune responses to COVID-19 infection varied based on the sex of the fetus, with less effective transfer of antibodies to male fetuses. The findings help improve understanding of sex-based differences in immunity.
NICHD also funded studies to explore potential links between COVID-19 vaccination and menstruation. Some women have reported changes in menstruation after receiving the vaccines. The research, which will include five projects in geographically and demographically diverse populations, will give people more information about what to expect after vaccination and may help reduce vaccine hesitancy.
At the end of the year, NICHD staff also wrote a commentary on the scientific evidence supporting COVID-19 vaccination and safety in people planning to conceive or those who are pregnant or nursing.
Research on these and other aspects of women's health during the pandemic is essential.