Highlighting NICHD Research Support in the Neurosciences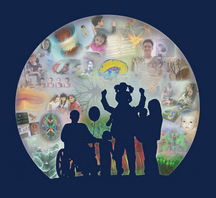 At the annual meeting of the Society for Neuroscience

, held in San Diego, California, from November 9–13, more than 30,000 neuroscientists from around the world will share their latest research results and learn about new advances and opportunities in the field.
As a committed supporter of neuroscience research, the NICHD will be exhibiting at the meeting as a part of the NIH booth. Scientists, current grantees, and potential grantees can stop by Booth 4001 to meet NICHD researchers and discuss their work.
The NICHD supports research in the neurosciences across all phases of growth and development. In fact, the Institute spends about one-quarter of its extramural research funds on neuroscience, including basic research, clinical research, and behavioral studies.
Through its extramural research program, the NICHD provides funding for neuroscience research and research training to researchers at other institutions throughout the world. The Institute also conducts neuroscience research through its intramural research program; however, this Spotlight focuses on extramural activities.
The following images highlight some of the neuroscience research areas that the Institute supports. These descriptions are not intended to explain the breadth of neuroscience research supported by each extramural organizational unit, but just to provide a short snapshot of some neuroscience research topics. Select a link to learn more.
Brain Imaging
Fertility, Pregnancy, and Infancy
Human Facial Expressions and Emotions
Nervous System Development
Neural Signaling and Fragile X Syndrome
Traumatic Brain Injury (TBI)
Zebrafish and Model Organisms
Brain Imaging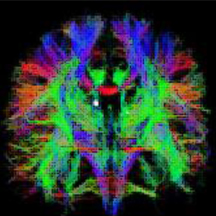 Brain tractography—like the image shown here—displays bundles of nerve fibers by using magnetic fields to visualize the movement of water through brain tissue.
Many organizational units throughout the NICHD support imaging and modeling studies that illustrate neural networks in normal and abnormal development. For example, the Child Development and Behavior Branch (CDBB) has supported two major brain imaging studies that used tractography, among other techniques, to learn about the processes of normal structural and functional brain development.
The first of these was the Pediatric Magnetic Resonance Imaging (MRI) Study of Normal Brain Development, which produced images of the brains of more than 500 typically developing infants, children, and youth and tested the children's cognitive and behavioral skills throughout childhood. The study gathered powerful data on the relationships between changes in the brain and changes in mental and behavioral skills.
In addition, the CDBB also supports the ongoing Cincinnati Magnetic Resonance Imaging of Neurodevelopment (C-Mind) Project

of brain development from birth to age 18 years. In particular, this research examines how the structure of the brain changes over time and how these changes are related to the development of language and attention.
Fertility, Pregnancy, and Infancy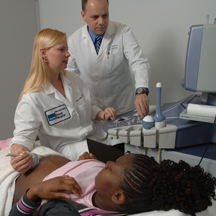 Although neuroscience isn't necessarily the first thing that comes to mind when you think about fertility, pregnancy, and infancy, there's actually a great deal of neuroscience involved with these topics. For example:
Human Facial Expressions and Emotions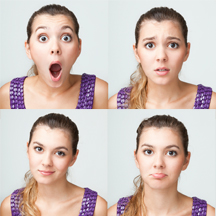 An important step in a child's development is learning to "read" the emotions on other people's faces—like those expressed by the young woman in these photos. In normal development, this learning process starts early: Even in the first few months of life, most babies begin responding to their parents' smiles. However, in some cases—including certain types of Intellectual and Developmental Disabilities (IDDs)—this process is disrupted, impeding emotional learning and social relationships.
The NICHD's CDBB supports research on the normal developmental processes through which children acquire the ability to process the meaning of facial expressions, social cues, and emotions. These include studies of brain networks and behavior and social and emotional development in both humans and animal models. Related studies supported by the CDBB include cognitive, social, and language development, reading and reading disabilities, math and scientific thinking and math disabilities, and early learning.
To complement these studies of normal development, the Intellectual and Developmental Disabilities Branch (IDDB) supports research on IDDs, such as autism spectrum disorder, that create challenges for understanding the emotional meanings of facial expressions and social cues. IDDB-supported research aims to understand the underlying brain and other abnormalities that cause the learning and emotional problems common in IDDs and how interventions might be able to help improve outcomes.
Nervous System Development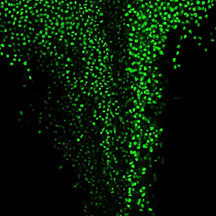 In a developing embryo, the formation of the neural tube—the structure that will eventually become the brain, spinal cord, and other components of the nervous system—is a critical step in maturation. When this process is disrupted and the neural tube does not form properly—usually during the first month of pregnancy—this causes neural tube defects, such as spina bifida.
The neural tube also gives rise to the neural crest—cells shown here that migrate to eventually form other parts of the nervous system, such as the sympathetic nervous system that controls the "fight or flight" reflexes. Neural crest cells are unique in that they can become a wide variety of other kinds of cells, from neurons to bone cells to endocrine cells that release hormones. Problems with the movement or development of neural crest cells can lead to birth defects and other health problems.
The NICHD's Developmental Biology and Structural Variation Branch (DBSVB) supports researchers who study the cellular, molecular, and physical aspects of these early developmental processes and how they can result in neural tube defects and other birth defects.
Neural Signaling and Fragile X Syndrome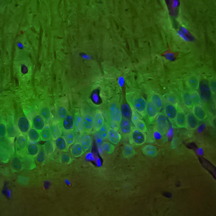 In this photo, mGluR5—a specific type of metabotropic glutamate receptor (mGluR)—is highlighted to researchers can follow its activity. mGluRs are vital for making the connections between brain cells that lead to learning and memory. In people with Fragile X syndrome, a genetic mutation disrupts the signaling process that controls the activities of mGluRs. As a result, the connections between brain cells don't develop correctly. These poorly developed connections are at the root of many of the learning and memory problems experienced by people with Fragile X.
IDDB-supported research has greatly advanced our understanding of Fragile X and other IDDs, such as Down syndrome. Research supported by the IDDB helped identify the gene involved and the mechanism of disruption that leads to Fragile X syndrome, as well as the role of disordered mGluR signaling in Fragile X. The Branch is now funding clinical trials of a new drug that may correct the problem in mGluR signaling for Fragile X in hopes that it can reverse or even prevent the signaling problems.
Traumatic Brain Injury (TBI)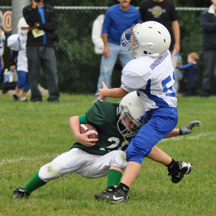 Despite the many physical, emotional, and social benefits that children receive from playing team sports, certain sports—such as football—are also major causes of TBI and pediatric injury in U.S. children. Even a relatively mild TBI, sometimes called a concussion, can lead to long-term problems in thinking, movement, and mood.
A portion of the NICHD's support of neuroscience research on TBI comes through its National Center for Medical Rehabilitation Research (NCMRR). The NCMRR supports diverse research on the cellular, molecular, physiological, and biomechanical processes involved in TBI. The NCMRR also supports research on new ways to treat TBIs and their associated conditions.
In addition, the NICHD's Pediatric Injury and Critical Illness Branch supports research on the mechanisms and risks of pediatric TBI and related injuries, as well as on pediatric healing, how best to detect a brain injury in a child, and what interventions might be protective against long-term damage.
Zebrafish and Model Organisms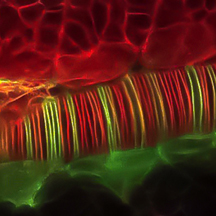 This photograph shows the formation of the neural tube in the zebrafish. Studies of zebrafish have led to major advances in many areas of science, including developmental biology and genetics. Zebrafish are what is known as a "model organism," or a relatively simple organism that is easy for scientists to work with, but that nevertheless can provide deep insights into human biology because of basic similarities between these organisms and humans.
The DBSVB supports a variety of model organism resources—including mice, frogs, fruit flies, worms, and the zebrafish to help scientists study normal development and early developmental errors that cause birth defects and other problems in the brain and body systems. As part of its zebrafish research support, DBSVB also provides funds toward the Trans-NIH Zebrafish Initiative, a group that works to coordinate the zebrafish research supported by Institutes and Centers throughout the NIH. The DBSVB also supports the Trans-NIH Xenopus Initiative, which provides scientists with specimens and tools for research.
As these photos illustrate, the NICHD supports a range of basic, clinical, and translational research in the neurosciences. The Institute is committed to supporting this research to better understand developing systems and rehabilitation. The NICHD also supports trans-NIH initiatives, including the Brain Research through Advancing Innovative Neurotechnologies (BRAIN) initiative, which is being funded through the NIH Blueprint for Neuroscience Research.
Come visit NICHD staff at the Society for Neuroscience annual meeting in San Diego. Institute staff will be located within the main NIH exhibit, Booth 4001, inside the exhibit hall.
More Information
For more information, select a link below:
Originally Posted: November 12, 2013