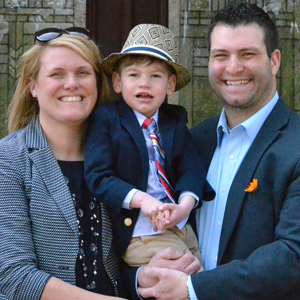 Betsy and Michael Pilon with their son Max, whose life was saved thanks to cooling therapy.

Photo credit: Betsy Pilon
---
Flip open a scientific journal filled with the latest findings and you'll read about data analysis, technical methods, and anonymous case study participants.
The public impact of these incremental research findings isn't always clear.
We have compiled stories of kids and adults who have benefited from NICHD-supported research. Thanks to those who participate in clinical trials, researchers have been able to develop patient registries and research networks and new prevention and intervention campaigns that help many others.
How a Mom, a Scientist, and NICHD Joined Forces to Fight a Rare Disease
If you have a rare disease, it can be hard to find help. If you research a rare disease, it can be difficult to find funding and study participants. Read how one mother's struggle to find help for her daughter led her to a community of rare-disease researchers.
Rare Disease Research at NICHD: Niemann-Pick Disease Type C
Watch this video to learn how NICHD research helps families with Niemann-Pick Type C (NPC), a rare childhood disease that gradually impairs brain function and movement.
Today's Research on Medicines for Children Offers Hope for Tomorrow
NICHD funds pediatric pharmacology research to help doctors appropriately prescribe drugs for children. Read about two families and their involvement in a treatment trial focused on Duchenne muscular dystrophy.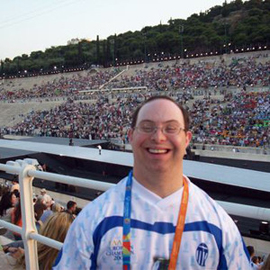 David Egan is a Down syndrome role model and advocate.

Photo credit: David Egan
It's All about Potential: Down Syndrome Athlete and Advocate Highlights Ability Where Others See Disability
David Egan, widely recognized as a Down syndrome role model and advocate, participates in NIH's DS-Connect®: The Down Syndrome Registry, which gathers patient data to assist researchers. David explains what has inspired him, what he has accomplished, and what he still hopes to do.
Teaching Fathers to Keep Babies Safe
The Safe to Sleep® campaign's Fatherhood Initiative with the Kappa Alpha Psi Fraternity encourages African American men to share safe-sleep messages in their families and communities.
Breath of Life: NICHD Research Provides Hope for Infants with Oxygen Deprivation
Max Pilon, age 3, is alive thanks to a cooling therapy for infants born with oxygen deprivation, a technique that was developed through NICHD research. Today, the Institute's research efforts aim to continue improving treatments to help more infants facing similar circumstances.
Research Network Helps HIV-Infected Youth
When one young man was diagnosed with HIV, a youth engagement program conducted by NICHD's Adolescent Medicine Trials Network for HIV/AIDS Interventions (ATN) connected him to the information, treatment, support, and friendship he needed. Read his story and learn how the ATN fights the spread of HIV with research on treatment and prevention in adolescents and young adults in the United States.
More Information
For more information about NICHD's ongoing research, follow the links below.
Originally Posted: August 1, 2016