Did you catch all of our infertility information?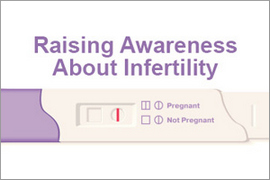 The NICHD spent the last month highlighting important information about infertility.
Building around National Infertility Awareness Week

from April 20 to 26, the Institute added new information about infertility to its website, including infertility myths versus facts, interviews with infertility researchers, and the latest infertility research findings.
Check out the listing below to make sure you caught all of the April infertility information:
More Information
For more information on infertility research at the NICHD, select one of the following links:
NICHD Resources

Related A-Z Topics:
Previous NICHD Spotlight on Infertility:
Originally Posted: May 6, 2014