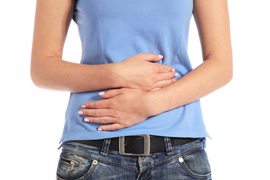 Endometriosis is a condition in which a type of tissue called the endometrium, which normally lines a woman's uterus, grows elsewhere in her pelvic cavity. These growths of endometrial tissue are called "implants," "nodules," or "lesions" and may be found on a woman's ovaries, fallopian tubes, bowel, bladder, or other locations.
Endometriosis is most common in women in their 30s and 40s. The primary symptoms are pain and fertility problems. The pain can be chronic, or it can be associated with some specific event, such as menstruation or sexual intercourse. For some women, pain related to endometriosis is severe and interferes with their daily activities.
It is hard to say exactly how common endometriosis is because some women don't know they have it. If symptoms are mild or don't occur very often, women or their health care providers may dismiss the problem, meaning many women go undiagnosed.
In addition, many treatments for endometriosis are ineffective, or they work only for short periods of time. Because even small patches of endometriosis can cause severe pain, finding appropriate and effective treatment options is often challenging.
The NICHD has been studying different aspects of endometriosis for more than a decade. Many of these activities were described in detail in a previous spotlight: Endometriosis Awareness Month & NICHD Research. This spotlight provides updates on several ongoing activities, described previously, and outlines a clinical trial that is now enrolling patients. To learn more, select a link below.
Endometriosis: Natural History, Diagnosis, and Outcomes (ENDO) Study
Finding Treatments for Endometriosis Pain
Other Endometriosis Research Activities
Endometriosis: Natural History, Diagnosis, and Outcomes (ENDO) Study
The ENDO Study, conducted by the Division of Intramural Population Health Research, is examining risk factors associated with endometriosis. This ongoing study includes two groups of women at various clinical sites:
Women undergoing surgery to diagnose endometriosis
Women with no known history of endometriosis, who undergo pelvic magnetic resonance imaging to identify whether they have endometriosis or another gynecologic condition
To date, the study's researchers have found increased risk of endometriosis associated with:
Exposure to certain phthalates (chemicals used in plastics and other everyday products)
Exposure to certain industrial chemicals called "persistent organochlorine pollutants"
Exposure to some perfluorinated chemicals (PDF - 1 MB) or PFCs
A specific ultraviolet filter (sunscreen) used in cosmetics
High urine concentrations of chromium and copper
Other ENDO data have recently shown that a history of infertility was associated with increased risk of endometriosis in both groups of women in the study. Among the women who underwent surgery to diagnose endometriosis, pelvic pain and menstrual pain were also associated with increased risk (PMID: 23454253).
The ENDO Study has also changed our understanding of how many women have endometriosis. Estimates suggest that about 75% of women with pelvic pain have endometriosis, and that 50% of women with fertility problems also have the condition. However, because many women don't have symptoms or are not diagnosed, the numbers could be much higher. ENDO Study researchers found that even among women who had no symptoms, 11% had endometriosis lesions. If the same holds true of the general population, the number of American women with endometriosis might well exceed the current estimate of 5 million.
Finding Treatments for Endometriosis Pain
As mentioned, pain is one of the most common symptoms of endometriosis and, for some women, the pain is severe. Finding a way to reduce or eliminate the pain without powerful pain medications is an active area of research.
One possible cause of endometriosis pain could be spasms or tightening of the pelvic muscles. Ending these spasms could reduce the pain. Botulinum toxin—marketed as Botox, Dysport, Myobloc, and Xeomin—is often used to treat muscle spasms and conditions characterized by these spasms. Researchers in NICHD's intramural Program on Reproductive and Adult Endocrinology are planning a clinical trial, Botulinum Toxin for Pelvic Pain in Women with Endometriosis, to test whether botulinum toxin can effectively relieve the chronic pain caused by endometriosis.
This research study—which is now enrolling participants—will compare the effectiveness of onabotulinum toxin A (Botox) treatment vs. a placebo in women ages 18–50 years old with a proven diagnosis of endometriosis. The women will be randomly selected to receive one injection of either botulinum toxin or a placebo. If their pain has not improved after 1 month, all of the women, regardless of what they received at the first injection, will be offered a botulinum toxin injection. All participants will then be followed for up to 1 year to determine if their pain has lessened with the Botox treatment.
If you are interested in enrolling in this clinical trial, please contact the NIH Clinical Center Patient Recruitment and Public Liaison Office at 1-800-411-1222 or prpl@mail.cc.nih.gov.
Other Endometriosis Research Activities
Understanding the molecular and genetic mechanisms of endometriosis may help in developing new prevention and treatment strategies. The NICHD's extramural Gynecologic Health and Disease Branch and Fertility and Infertility Branch support a number of research studies in this area. Below are some recent findings from their grantees:
Researchers are also seeking less invasive ways to diagnose endometriosis and determine its level of severity. Currently, visual inspection through surgery, with laboratory confirmation, is the most accurate method. This approach not only requires expensive and invasive surgery, but it can also mean a delayed diagnosis—sometimes more than 10 years from the beginning of a woman's symptoms until the disease is actually confirmed. Researchers in the Specialized Cooperative Centers Program in Reproduction and Infertility Research (SCCPIR) have used genomic information to develop a diagnostic classifier for endometriosis with 90% to 100% accuracy. If it is validated in additional patients, it is possible that a simple biopsy in the doctor's office could provide a new approach to detect this condition in women.
Though endometriosis remains without a cure, NICHD researchers are making progress in better understanding the disease and its risk factors and in identifying potential treatments and diagnostic and prevention strategies.
More Information
For more information on endometriosis, select one of the following links:
Research articles discussed in this Spotlight
NICHD Resources

Related A–Z Topics:
Previous NICHD Spotlights on Endometriosis:
Originally Posted: April 10, 2014