Formerly the Specialized Cooperative Centers Program in Reproduction and Infertility Research
Overview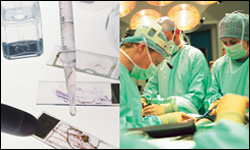 NCTRI is a national network of centers that promote multidisciplinary interactions between basic and clinical scientists interested in establishing high-quality translational research programs in the reproductive sciences. The centers also serve as national resources for the training and career development of young scientists electing to pursue careers conducting research in high-priority areas of reproduction and infertility. The centers facilitate and accelerate bidirectional knowledge transfer between the laboratory and clinic, with the goal of improving human reproductive health through enhanced communication, innovation, and research excellence.
The first request for applications was issued in 1996, and the first four awards were issued in 1998. The program, supported through NICHD's Fertility and Infertility Branch (FIB) through a P50 funding mechanism, now includes seven sites around the country. In the last competition, NCTRI's research scope expanded to include gynecological health in addition to reproductive health.
Each center supports 1- to 2-year pilot projects that may be used to support new investigators, established investigators, or collaborative projects involving investigators from different NCTRI locations. An outreach/education core supports activities related to community outreach and education.
Topic Areas
The research activities that compose NCTRI grants must be consistent with FIB's broad research mission. These include:
Reproductive Developmental Biology: origins and differentiation of germ cells; the endocrine, paracrine, and physiologic mechanisms involved in gametogenesis, including germ cell-somatic cell interactions, germ cell proliferation and apoptosis, blood-testis barrier formation, and germ cell transplantation; fertilization, including sperm motility and capacitation, zona pellucida binding, and mechanisms to block polyspermy; pre-implantation embryonic development, including zygotic gene activation, mechanisms regulating embryonic stem cell self-renewal and differentiation, and maintenance of stem cell pluripotency; use of genetically modified stem cells to treat animal models of reproductive disorders affecting fertility
Reproductive Tract Biology and Physiology: folliculogenesis, including studies addressing intraovarian control of follicle selection and atresia by growth factors, cytokines, and their respective binding proteins and receptor antagonists; luteogenesis and luteolysis, including intraovarian mechanisms that control luteal life span; implantation, including cell-to-cell interactions and embryo-uterine communication; the role of angiogenesis in ovarian and endometrial function; correlation of segmental gene expression with structure and function of the oviduct and epididymis
Reproductive Endocrinology and Neuroendocrinology: fundamental mechanisms of hormone synthesis, secretion, regulation, and action in the context of reproduction; developmental control of gonadotropin-releasing hormone (GnRH) neuronal migration and targeting; intraneuronal mechanisms and glia-neuron interactions controlling pulsatile GnRH secretion; intrapituitary mechanisms governing gonadotropin secretion; identification of elements and factors controlling gene transcription, including ensembles of co-activators and co-repressors, and identification of signaling molecules and pathways mediating hormone action; interaction of the immune and neuroendocrine systems in controlling fertility; mechanisms by which nutritional modification alters the hypothalamo-pituitary-gonadal endocrine axis
Reproductive Genetics and Epigenetics: genetics of sex determination, including clarification of the functional interactions between the known sex determination genes; genes, pathways, and epigenetic mechanisms that are important in reproduction, including those involved in imprinting of genes, differential expression of maternally versus paternally inherited alleles, and DNA methylation during gametogenesis and embryogenesis; elucidation of the genes, genetic, and epigenetic mechanisms responsible for normal and skewed X-chromosome inactivation and the epigenetic modification in gametogenesis that leads to transgenerational inheritance of health and disease
Reproductive Medicine: etiology, pathophysiology, prevention, and treatment of male or female infertility, with particular emphasis on defining those conditions that are either genetically based or may have a significant epigenetic component; relation of endometriosis and uterine leiomyomas to infertility, diagnosis, management, and treatment of other benign gynecologic diseases; research leading to improved outcomes across the spectrum of assisted reproductive technologies, as well as development of new approaches for assisted reproduction; use of genomics and proteomics to develop novel diagnostics for reproductive diseases and disorders particularly in adolescents; role of parental health on gamete quality and function
NCTRI has several research focus groups to promote interactions among investigators from different centers on specific topics. Focus group meetings provide an arena for investigators to present their unpublished research findings and to develop pilot collaborative projects. Current focus groups are interested in the following areas:
Endometrium, endometriosis, and implantation/placentation
Male fertility and infertility
Steroids, metabolism, and female reproduction
NICHD, through NCTRI, also has supported or presently supports several research resources, including the Human Endometrium Tissue Bank at the University of California, San Francisco and the RNA Sequencing Core at the Cornell University.
More Information