Consensus Statement Encourages Consistent Care and Symptom Management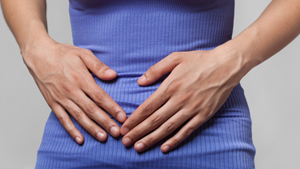 Endometriosis is a disease in which tissue similar to the endometrium, which normally grows inside the uterus, grows outside the uterus instead. Although the exact number of women affected by endometriosis is not known, current estimates suggest that 176 million women worldwide may be affected by the condition.
Treatment approaches for endometriosis often rely on a combination of evidence-based and experience-based ("unsubstantiated" by systematic data and research) approaches. As a result, women with endometriosis may find only temporary or no relief from the pain and infertility that are hallmarks of the disease.
Recently, the World Endometriosis Society (WES)

Montpellier Consortium—an international group of 56 individuals representing women with endometriosis and representatives from 34 medical and non-medical organizations, including the NICHD—published the first-ever worldwide consensus statement on the management of endometriosis. The statement addresses 69 issues related to the management of endometriosis and the resulting paper was published in the journal, Human Reproduction. Visit http://www.ncbi.nlm.nih.gov/pubmed/23528916 to access the full statement.
"We believe that this consensus statement will focus world attention on endometriosis," said Professor Linda Giudice, Vice President of the WES, current President of the American Society of Reproductive Medicine (ASRM), and a long-time NICHD grantee. "[This] debilitating disease is in need of improved diagnostics and management approaches for all who are afflicted and as well as their families."
"It was a privilege to have the opportunity to share ideas with so many committed individuals in the consortium," said Lone Hummelshoj, Secretary General of the WES, co-author of the WES Consensus, and an international advocate for women who, like her, have endometriosis. "The passion, enthusiasm, and wisdom of those involved were key ingredients of this 'concentrate' of recommendations."
To learn more about the WES Montpellier Consortium's work and about NICHD research on endometriosis, select a link below:
Details on the WES Montpellier Consortium Consensus Statement
NICHD Research on Endometriosis
More Information
Details on the WES Montpellier Consortium Consensus Statement
The WES Montpellier Consortium rated the evidence for each recommendation as either strong or weak and assigned each item a grade, based on the number of representatives who supported it.
The WES Consensus statement is important for a number of reasons. The WES Consensus is the first to incorporate the viewpoints of those most involved—women who have endometriosis, patients' societies, clinicians, surgeons, scientists, and representatives from pharmaceutical companies—from five continents. In addition, WES Montpellier Consortium members based the statement on a thorough review of the medical literature and included conclusions based firmly on scientific evidence, with a clear acknowledgment of areas where evidence is lacking, as well as clinical experience. The WES Consensus also emphasizes that women with endometriosis require long-term treatment and that their symptoms, lifestyle, and fertility wishes can change over time. The WES Consensus represents the first time that endometriosis and pelvic pain have been treated as part of the same disease continuum.
The WES Consensus covers all aspects of endometriosis management and treatment, including endometriosis and ovarian cancer, lifestyle and dietary interventions, and complementary therapies for endometriosis symptoms. Some highlights follow:
Adolescents. Women often link their first symptoms of endometriosis to adolescence, but most women remain undiagnosed until later in life. Long-term experience in dealing with women with endometriosis suggests that early treatment could help improve an adolescent's quality of life, prevent the disease from worsening, and reduce the chance of infertility. And yet, based on the published literature, the WES Montpellier Consortium found little clear evidence on how to provide endometriosis treatment for adolescents. More research—and more answers—are needed in this area.
Pregnancy. Endometriosis is among the leading conditions associated with female infertility; about one-third of women with endometriosis are unable to get pregnant without assisted reproductive intervention. Medical treatment to suppress ovulation is not recommended as it does not improve fertility and may delay pregnancy. Laparoscopic surgery is an effective way to improve fertility in the first stages (based on the ASRM classification of endometriosis) of the condition. The statement advises that surgery should be performed by a physician with appropriate surgical training.
Menopause. It is assumed that the symptoms of endometriosis disappear with menopause. However, the symptoms may return when a postmenopausal woman initiates hormone replacement therapy, or if she has suffered anatomical distortion due to endometriotic adhesions.
Medical management of pain. The WES Montpellier Consortium suggests a variety of first-line treatments (pre-diagnosis) to assist women in managing their pelvic pain symptoms. These treatments may include non-steroidal anti-inflammatory drugs (NSAIDs) and other pain medications, as well as progestins and oral contraception pills, taking into consideration all potential side effects associated with these treatment regimens. Second-line treatments (post-diagnosis) may include progestins and opioid analgesics, as well as Gonadotropin-Releasing Hormone analogs, again, taking into consideration acceptable side-effects, which should be discussed and evaluated with each individual woman before treatment decisions are made, and at regular intervals after treatment begins.
Complementary therapies for pain. The WES Montpellier Consortium also noted two randomized clinical trials that showed dietary intervention—in in the form of vitamins, minerals, salts, lactic ferments, and fish oil—following endometriosis surgery seemed to be an effective alternative to hormonal treatment and was associated with similar reduction in pelvic pain and improved quality of life. Acupuncture has also proven helpful for the treatment of endometriosis, but the treatments are not always long-lasting and often must be repeated. High-frequency transcutaneous electrical nerve stimulation (using an electric current to stimulate the nerves) has also been found to provide some pain relief.
Moving forward, the WES will continue to review available evidence and update the WES Montpellier Consensus Statement as research provides new information about treating and managing endometriosis. This activity will also help to identify possible future research directions and topics.
NICHD Research on Endometriosis
Understanding endometriosis is an active area of research for the NICHD. For instance:
The NICHD's Division of Epidemiology, Statistics, and Prevention Research Office of the Director is conducting the Endometriosis: Natural History, Diagnosis, and Outcomes (ENDO) Study. This study uses a matched-exposure cohort design for purposes of assessing environmental chemicals, lifestyle, and medical history in relation to the development of endometriosis.
The Fertility and Infertility Branch and the Gynecologic Health and Disease Branch, within the Division of Extramural Research (DER), support research on multiple aspects of endometriosis. Dr. Giudice, Vice President of the WES, president of ASRM, receives support for her endometriosis research through the DER. The NIH Research Portfolio Online Reporting Tool lists NICHD-supported projects on endometriosis.
Researchers in the NICHD Unit on Reproductive Endocrinology and Infertility, within the Division of Intramural Research, study different aspects of conditions related to reproductive health and infertility, including endometriosis and uterine fibroids. One of the Unit's researchers, who was a member of the WES Montpellier Consortium, is following nearly 4,500 women with endometriosis to learn about conditions associated with endometriosis and about the relationship between endometriosis and pelvic pain. Visit https://science.nichd.nih.gov/confluence/pages/viewpage.action?pageId=29589621 for more information.
For a more detailed description of the Institute's research on endometriosis, visit the Endometriosis: Research Activities and Scientific Advances page.
The NICHD is hopeful that the WES Montpellier Consensus Statement will help women throughout the world who have endometriosis get the best and most comprehensive care possible.
More Information
For more information on endometriosis, select one of the following links:
Originally Posted: April 10, 2013