The NIH, including the NICHD, conducts and supports research to understand and address the obesity epidemic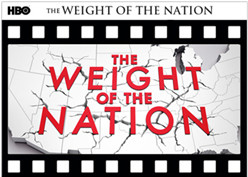 ©2012 Home Box Office, Inc. All rights reserved. HBO® and related channels and service marks are the property of Home Box Office, Inc.
More than two-thirds of U.S. adults are overweight or obese, and approximately 17% of Americans ages 2 to 19 are overweight or obese, according to the Centers for Disease Control and Prevention (CDC). Obesity increases the likelihood of many serious health problems, including heart disease, high blood pressure, type 2 diabetes, stroke, certain cancers, fatty liver disease, cirrhosis, liver failure, pregnancy complications, and infertility. Being overweight can be emotionally painful and can significantly impact life expectancy.
During the past 30 years, the percentage of overweight children and teens in the United States has more than doubled. These young people may be at increased risk of asthma, diabetes, painful joints, and other conditions that can deeply affect their childhood. They also are more likely to become overweight or obese adults and to face the serious health problems associated with the added weight.
On May 14 and 15, HBO premieres The Weight of the Nation

, a four-part documentary about the obesity crisis in America. The series features efforts to understand, treat, and prevent obesity, including the work of NIH and NICHD researchers. The program is part of a larger initiative to raise awareness about obesity and its health risks nationwide. A second series, geared toward children, premieres on May 16.
The NICHD addresses obesity and related issues in many of its research and outreach efforts. NICHD-supported scientists look, for example, at: how and why children gain weight, how weight changes pregnancy and pregnancy outcomes, at ways to prevent and treat obesity and many associated conditions. Select a link below to learn more.
HBO's The Weight of the Nation
NICHD Obesity Research
NICHD and We Can!
More Information
HBO's The Weight of the Nation
Three years in the making, The Weight of the Nation debuts for two nights starting at 8 p.m. (ET/PT). In four segments, the show explores a broad range of concerns, from some of the reasons for the obesity epidemic to effective weight-loss strategies. A second series, The Weight of the Nation for Kids, airs May 16 at 7 p.m. on HBO Family.
The program features in-depth interviews with leading scientists, including NIH Director Francis S. Collins, M.D., Ph.D. Leaders of the NIH Obesity Research Task Force, of which the NICHD is a member, also provided extensive scientific guidance for the films and accompanying materials. All the films will be available in English and Spanish, and the main segments will stream free on http://www.HBO.com

. Visit http://www.nih.gov/health/NIHandweightofthenation.
NICHD Obesity Research
Like many of the individuals profiled in the documentary, millions of Americans carry excess weight and struggle to lose it. Why do we gain weight, and why is it so hard to lose? NICHD researchers have studied and continue to study these and related questions.
Research indicates that obesity is the result of many factors, including biology, behavior, and social, economic, and environmental influences. The NICHD investigates this complex problem with multidisciplinary and trans-Institute efforts. The Institute's wide range of projects include, for example, studies of behavior-change techniques, genes that contribute to obesity, obesity's connection to different diseases, the influence of obesity on reproductive health, and the role of environment. Many of these efforts are coordinated through the NICHD's Obesity Research Strategic Core (ORSC), and many are done in collaboration with other members of the NIH Obesity Research Task Force. Short descriptions of some of these efforts appear below.
Maternal Obesity
Understanding the effect of obesity on pregnancy and childbirth is crucial to promoting healthy outcomes for women and their children. Obesity poses risks to expectant mothers, including high blood pressure and diabetes, and to a developing fetus as well. A 2009 Institute of Medicine (IOM) report, which draws from NICHD research, presents evidence and guidelines related to healthy weight in pregnancy

and the risks of excess maternal weight gain. NICHD researchers continue to explore these and other issues, including the important association between maternal obesity and abnormalities of birth.
In one study, researchers found a connection between maternal obesity and neural tube defects, in which the brain or spinal column does not form properly in early development. Another study found that, on average, obesity increases a woman's chance of giving birth to a child with a heart defect by around 15%. The study showed that the risk increases with rising obesity. For more details, visit http://www.nichd.nih.gov/news/releases/Pages/040710-newborn-heart-defects.aspx.
NICHD researchers also examine the causes, treatment, and prevention of gestational diabetes, which is diabetes that begins during pregnancy. Being overweight raises a woman's risk of developing this condition. In addition, women who have had gestational diabetes and children whose mothers had gestational diabetes are at higher lifetime risk for obesity and type 2 diabetes. Gestational diabetes can also cause problems for the newborn, including dangerously low blood sugar, difficulty breathing at birth because of delayed lung maturation, neonatal liver disease, and large body size that may cause injuries at birth.
One related NICHD-supported effort is the Hyperglycemia and Adverse Pregnancy Outcome (HAPO) study, which included more than 25,000 pregnant women in 11 countries. Among other findings, HAPO researchers described a link between higher blood sugar levels in mothers and signs of potential complications among their infants. This study also showed that obese mothers with gestational diabetes had a significantly greater risk of developing high blood pressure, needing a Caesarean section, and delivering a baby with a higher-than-normal birth weight than did non-obese women with gestational diabetes. To learn more about this study, visit http://www.ncbi.nlm.nih.gov/pubmed/22357187.
Obesity in Young People
The NICHD also plays a major role in childhood obesity research that covers a broad spectrum of topics.
For example, the NICHD and the NIH Office of Behavioral and Social Science Research (OBSSR) recently established a Global Center for Childhood Obesity at the Johns Hopkins School of Public Health. The Center will take a transdisciplinary approach to research on childhood obesity, bringing together basic science, epidemiology, nutrition, medicine, engineering, and environmental and social policy research, among other fields. In addition to providing a centralized focus for comprehensive research on childhood obesity, the Center will also help to build the research and training infrastructure for integrating systems science into obesity and chronic disease research.
Better insight into which young people are most at risk for obesity could provide ways to prevent the condition and its health risks. Findings from a recent study identified locations on two genes that, when mutated, seem to increase the likelihood of childhood obesity. Earlier studies identified obesity-related genes in extremely obese youth and adults, but this is the first study to locate genes associated with the less severe, more common forms of obesity. For details on this study, visit http://www.nichd.nih.gov/news/releases/Pages/030912-obesity-genes.aspx.
Another effort is the Early Adult Reduction of Weight Change through LifestYle Intervention (EARLY) trials, which examine behavioral and/or environmental approaches to weight control for young adults who are at high risk for weight gain and the relation of weight gain in young adults and risk for cardiovascular disease. The National Heart, Lung, and Blood Institute (NHLBI) funds these trials in collaboration with the NICHD. Researchers are now testing interventions using social media and smart phones, including some with blue-tooth-enabled scales to monitor weight. The NICHD is also collaborating with NHBLI and the OBSSR on the Childhood Obesity Prevention and Treatment Research (COPTR) program, which will conduct large-scale obesity prevention and treatment clinical trials. The Institute also joins the NHLBI and other NIH Institutes in supporting the evaluation of communities where childhood obesity rates are high. These and other efforts fall under the National Collaborative on Childhood Obesity Research

, which includes the NIH, the CDC, and other public and private organizations with an interest in understanding childhood obesity.
NICHD also supports research examining interventions for treating obesity among children and teens, the long-term effects of reducing weight during adolescence on adult health, and the long-term effects of reducing weight during adolescence on adult health. One such study aims to determine the effectiveness of a medication that blocks the body's absorption of some dietary fat, while another explores interpersonal therapy for girls who are at risk for obesity, an important area of study because research shows that overweight girls who lose weight reduce adult risk for diabetes.
Conditions Associated with Obesity
The NICHD funds studies that examine not only causes, treatments, and population-specific issues related to obesity, but also diseases and conditions associated with obesity. For example, under conditions of obesity, the body's cells can become less sensitive to insulin, an early stage in the development of diabetes. In one NICHD-supported study, researchers deconstructed the basic processes by which insulin prompts fat cells to take in energy, in the form of glucose, from the bloodstream. The researchers' understanding of this process in insulin-sensitive cells will be important for the future study of insulin-resistant cells. This finding may lead to new ways to prevent diabetes from developing or to treat diabetes. For more information, visit http://www.nichd.nih.gov/news/releases/Pages/090710-insulin-stimulates-fat-cells.aspx.
Obesity also plays important roles in reproductive health and fertility. The Institute focuses on understanding these roles, especially related to the endocrine disorder polycystic ovary syndrome (PCOS). PCOS is the leading cause of anovulatory infertility. Women who have PCOS are also at higher risk for diabetes, cardiovascular disease, and obstructive sleep apnea. Research shows that, in some women with PCOS, even a 5% decrease in weight can improve fertility and reduce other symptoms. NICHD-sponsored researchers are studying the biological causes of PCOS as well as dietary interventions and other treatment approaches. Visit http://www.nichd.nih.gov/news/releases/Pages/062911-PCOS-recruitment.aspx for more information about a PCOS study.
NICHD and We Can!
To encourage a healthy weight among young people, the NICHD has joined forces with the NHLBI, the National Cancer Institute, and the National Institute of Diabetes and Digestive and Kidney Diseases to support We Can! (Ways to Enhance Children's Activity and Nutrition).We Can! is different from existing youth obesity-prevention initiatives in that it focuses its evidence-based activities and education on parents and caregivers—the primary group for influencing youth.
The NICHD's Media-Smart Youth: Eat, Think, and Be Active!(PDF - 30.0 MB) curriculum is one of four evidence-based youth curricula offered through We Can!Media-Smart Youth is an afterschool program that aims toteach preteens and teens skills that can help them make a lifetime of healthful choices about nutrition and physical activity.
Media-Smart Youth focuses on building media literacy skills. Every day, children are surrounded by media—TV ads, Websites and games, radio programs—that promote unhealthy foods and inactivity. The Media-Smart Youth curriculum teaches youth about the complex media world and how to interpret and "deconstruct" the overt and subtle commercial messages in that world. This program helps young people:
Become aware of, and think critically about, the media's influence on their nutrition and physical activity choices
Build skills to make informed decisions about eating nutritiously and engaging in physical activity
Establish life-long healthy habits
Participants in Media-Smart Youth discuss key media awareness questions and participate in hands-on activities, such as learning to make healthy snacks. Creating their own media projects that promote healthy eating and physical activity—such as designing a Web page, or recording a public service announcement—helps youth better understand media messages and better appreciate how media work.
More Information
For more information on these activities and projects, select a link below:
Originally posted: May 11, 2012