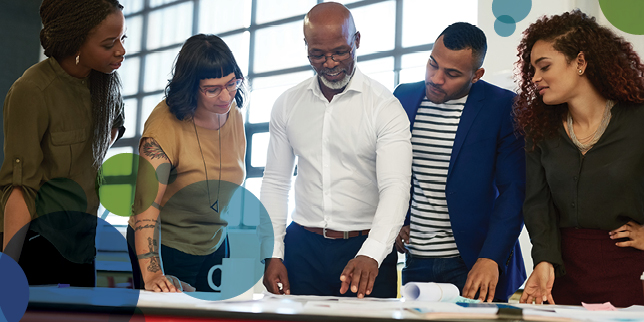 To help inform the STRIVE Action Plan, NICHD has many activities planned related to its three themes.
Broad involvement in these activities from various populations and communities allows for a more comprehensive Action Plan. NICHD invites individuals and groups to participate in as many activities as possible to ensure a wide range of perspectives are considered.
Check out an update on STRIVE from the June meeting of the National Advisory Child Health and Human Development Council.
Please sign up for the STRIVE listserv for initiative updates.  
Theme 1 (Ensuring Equity, Diversity, and Inclusion [EDI] in NICHD's Workforce) Activities
The institute is actively identifying and planning for activities related to its internal workforce.
Theme 2 (Enhancing Opportunities for EDI in the Broader Scientific Workforce) Activities
This theme focuses on ways to foster diversity in NICHD-funded researchers and trainees. These discussions are ongoing.
Theme 3 (Planning, Conducting, and Supporting Health Disparities Research) Activities
Workshop Series: STRIVE for Change
We will add information and links for registration/participation as they become available.
Workshop #1: July 14, 2021
STRIVE for Change: Establishing a New Frontier in Health Disparities Research Across the Life Course
Workshop #2: August 4, 2021
How Social Identity Can Impact and Promote Health: A Look Across Populations, Lifespans, and Generations
Workshop #3: August 25, 2021
Societal Influences on Health and Health Disparities During Childhood
Workshop #4: September 15, 2021
Community-Engaged Research Strategies to Mitigate Health Disparities in NICHD Populations
Workshop #5: October 6, 2021
STRIVE for Change: Weaving Translation and Implementation Science into the Fabric of Health Disparities Research