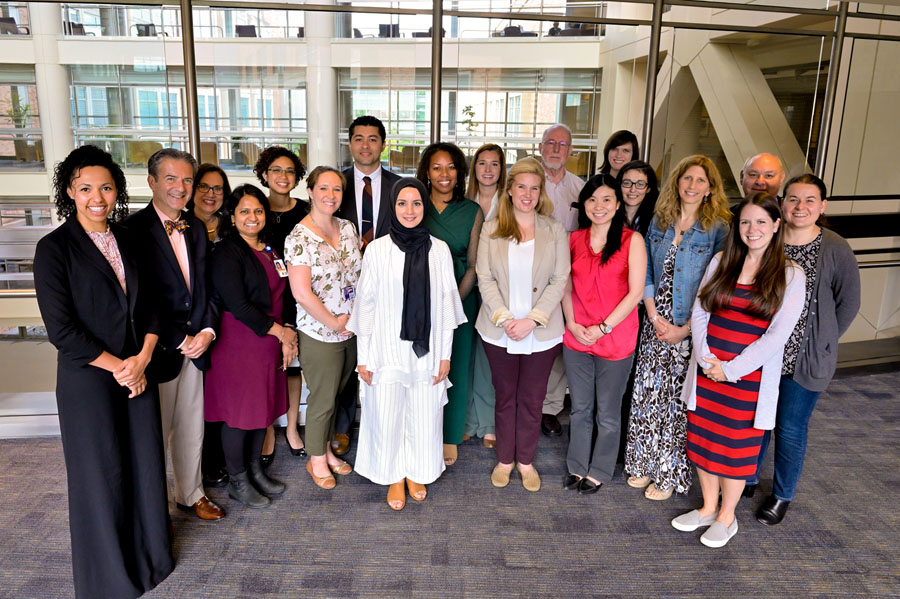 Graduating class of NICHD's Division of Intramural Research Pediatric Endocrinology Training Program, June 2019. CREDIT: M. VAN DEN NESTE
NICHD is organized into four primary components:
Division of Extramural Research (DER)
DER develops, implements, and coordinates cross-cutting, multidisciplinary research activities within NICHD's mission and supports such research through grants and contracts to colleges, universities, medical schools, hospitals, and small businesses.
Division of Intramural Research (DIR)
DIR conducts laboratory, clinical, and population-based research to seek fundamental knowledge about the nature and behavior of living systems.
Division of Intramural Population Health Research (DIPHR)
DIPHR designs and conducts innovative etiologic and interventional research to promote health and well-being of all populations, including vulnerable subgroups such as pregnant women, infants, and children.
National Center for Medical Rehabilitation Research (NCMRR)
Through basic, translational, and clinical research, NCMRR aims to foster development of scientific knowledge to enhance the health, productivity, independence, and quality of life of people with physical disabilities.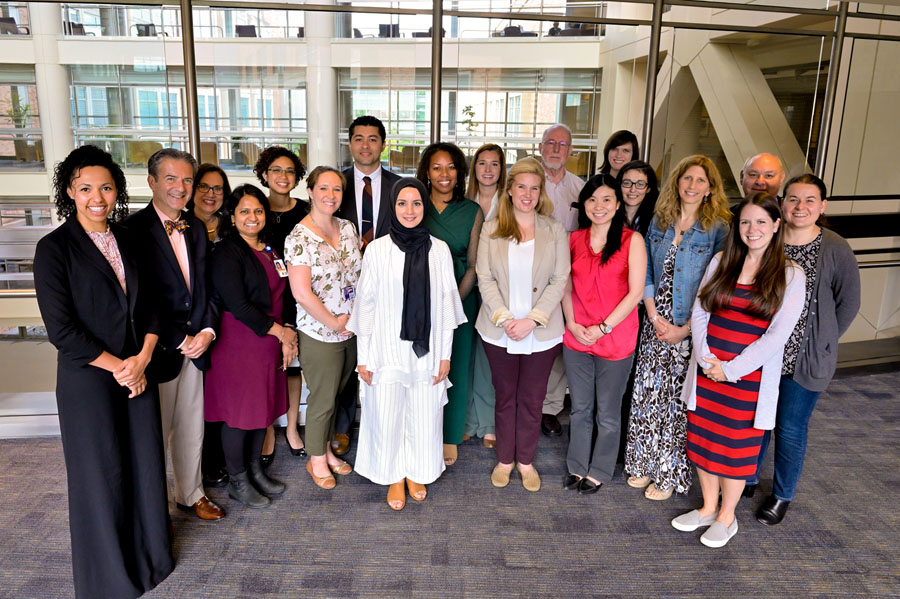 Graduating class of NICHD's Division of Intramural Research Pediatric Endocrinology Training Program, June 2019. CREDIT: M. VAN DEN NESTE
The NICHD Office of the Director (OD) works with these four components and provides overall leadership, planning, direction, coordination, and evaluation of the institute's research programs and activities. OD also develops and monitors internal policies and procedures to effectively and efficiently advance NICHD's mission. Access NICHD's full organizational chart
to learn more.
NICHD Functions
The key functions of the institute are as follows:
Provide leadership and formulate research goals and long-term plans to accomplish the mission of improving maternal, fetal, and child health; addressing problems of human development, with special focus on intellectual and developmental disabilities; analyzing family structure and the dynamics of human populations; studying the reproductive processes; and enhancing recovery and quality of life through medical rehabilitation.
Conduct, foster, and support biomedical and behavioral research through grants, contracts, and studies performed in NICHD laboratories.
Support training in fundamental sciences and clinical disciplines through individual and institutional research training awards.
Promote the application of research findings to clinical practice.
Cooperate in government-wide efforts to improve health and provide consultation to federal agencies and non-federal groups on the development of programs to improve health.
Coordinate and integrate research efforts with service-oriented health agencies.
Disseminate information related to research findings to the scientific community, clinical practitioners, policy makers, and the general public.