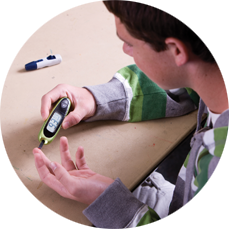 The mission of the SBSB is to conduct research to understand the social and behavioral determinants of health and health-related behaviors; to develop and test educational, behavioral, and environmental strategies for improving health and health-related behaviors; and to conduct research on the problem of disparities in health, the developmental mechanisms underlying health disparities over the life course, and modifiable intervention targets to reduce disparities.
SBSB also provides service to the division, institute, NIH, HHS, and the profession via consultation, collaboration, and assistance to advance the goals of the institute; and recruits, trains, and mentors highly qualified students and trainees for professional careers in the social and behavioral sciences.
---
Highlights
The SBSB postbaccalaureate training program provides recent college graduates who plan to pursue graduate or professional health-related degree programs an opportunity to perform full-time research in population health, with one-on-one mentoring by senior NIH scientists.
SBSB is seeking applicants for a tenure-track investigator position (PDF 256 KB) to establish an independent research program on the social determinants of health including health-related behaviors and children's development.
Release: Risk of premature death in adulthood influenced by patterns of early childhood adversity
Selected NICHD Research Advances of 2022
Social and Behavioral Sciences Branch Postdoctoral Fellowship Opportunities (PDF 123 KB)