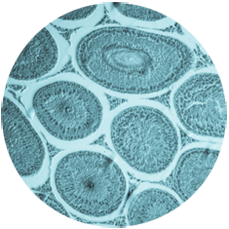 CDP efforts focus on conducting translational and clinical research to develop novel methods of contraception for women and men.
Using research and development contracts, CDP researchers translate discoveries into investigational new drug (IND)-enabled products and conduct clinical evaluation to address unmet contraceptive needs of women and men. The program also utilizes technology transfer mechanisms to form partnerships to advance products toward regulatory approval.
CDP supports a Chemical Synthesis Facility to synthesize clinical-grade, active pharmaceutical ingredients that are not commercially available; a Biological Testing Facility that performs preclinical testing to qualify agents for studies approved by the U.S. Food and Drug Administration (FDA); and the Contraceptive Clinical Trials Network (CCTN), which conducts clinical evaluation of new contraceptives for women and for men. CDP scientists coordinate and integrate program components to produce groundbreaking contraceptive research.
CDP's mission addresses multiple scientific themes and cross-cutting topics within NICHD's Strategic Plan. New and better female methods as well as the first reversible, effective contraceptive method for men fall into Theme 2: Promoting Gynecologic, Andrologic, and Reproductive Health. But they also are tools to help reduce health disparities, prevent infectious and other diseases, treat chronic conditions, and improve global health.
---
Highlights
Interview with Dr. Blithe
(MP4 67 MB) at the 15th Congress of the European Society of Contraception and Reproductive Health – How do hormonal methods control sperm production?
Long, J. E., Lee, M. S., & Blithe, D. L. (2021). Update on novel hormonal and non-hormonal male contraceptive development. The Journal of Clinical Endocrinology and Metabolism 106(6), e2381-e2392. PMID: 33481994
Watch Dr. Blithe present on "Prospects and Pipeline for Male Contraception"
at the 2017 Nobel Conference 53: Reproductive Technology: How Far Do We Go?