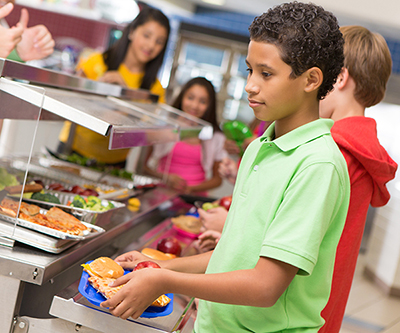 Credit: Stock image
Some studies estimate that nearly a quarter of American children and adolescents experience "loss-of-control eating," meaning they feel a lack of control over what they are eating, regardless of how much food is consumed. Loss-of-control eating increases the risk for excess weight gain, metabolic syndrome, and binge-eating disorder. Factors that lead to this condition among pediatric populations are not clear.
Researchers led by the Yanovski Lab evaluated a theory called affect regulation, which proposes that loss-of-control eating is a form of emotional regulation; the behavior is preceded by negative emotional states that are alleviated after eating. Studies testing this theory have only been conducted in laboratory settings and not in children's natural environments.
In the new study, the research team used smartphone surveys to evaluate children and adolescents in their natural environments over a period of two weeks. Participants completed multiple surveys every day, answering questions about their mood, feelings of guilt, eating behavior, and more. The study team found that no negative emotion prior to eating (i.e., anger, anxiety, depression, guilt), either individually or taken together, was statistically associated with loss-of-control eating at the next meal. They also found elevated levels of negative emotions after loss-of-control eating. Both of these observations contradict the affect regulation theory.
The findings underscore the importance of designing studies specific to children, especially outside of the laboratory environment. The authors also highlight the need for more research to refine their observations and modify existing theories on food-related behaviors.
Learn more about the Developmental Endocrinology, Metabolism, Genetics & Endocrine Oncology Affinity Group: https://www.nichd.nih.gov/about/org/dir/affinity-groups/DEMG-EO.