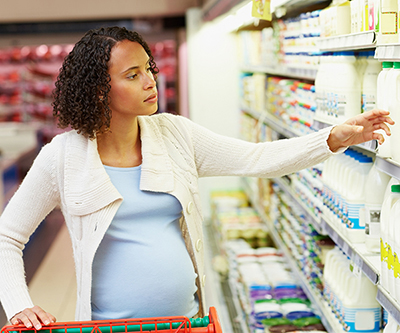 Credit: Stock image
Ultra-processed foods—packaged products that are mostly comprised of ingredients extracted from food—are linked to obesity, as well as heart and metabolic diseases. However, few studies have evaluated their effects on pregnant people, including how ultra-processed food influences blood pressure, weight gain, and gestational diabetes.
In this study from the Division of Population Health Research, researchers led by Dr. Una Grewal looked for potential links between consumption of ultra-processed food (from the time of conception through the first trimester) and excessive weight gain in later trimesters, as well as the development of gestational diabetes, high blood pressure, or preeclampsia. The data came from NICHD's Fetal Growth Study and included a diverse group of women across the United States. The women, who were considered low risk for these health complications, completed surveys about their diets and had their health monitored throughout pregnancy.
The study team found that consumption of ultra-processed foods during the first trimester was surprisingly not associated with excessive weight gain, gestational diabetes, or high blood pressure. The authors caution that the results need to be replicated in studies with more participants. If the findings are confirmed, then nutritional recommendations should be modified; for instance, dietary recommendations could be more specific rather than advising pregnant individuals to avoid all ultra-processed foods, which can range from sugar-sweetened beverages to ready-to-eat meals.
Learn more about the Division of Population Health Research: https://www.nichd.nih.gov/about/org/dir/dph.