NICHD Partners with Other Federal Agencies to Support Young Children and their Families and Caretakers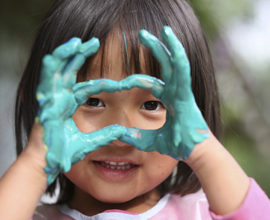 A recent survey shows that one in four young children (ages birth to 5) are at moderate to high risk for developmental, behavioral, or social delays.1 To raise awareness of these risks and promote early screening, the NICHD has joined the Administration for Children and Families and a number of other federal partners in launching Birth to 5: Watch Me Thrive!
This initiative seeks to:
Celebrate milestones.
Every family looks forward to a child's first smile, first step, and first words. Regular screenings with early-childhood professionals help raise awareness of a child's development, making it easier to recognize and celebrate developmental milestones.
Promote universal screening.
The same way that hearing and eye exams ensure that children can hear and see clearly, developmental and behavioral screenings assure that children are progressing in their language, social, and physical development.
Identify possible delays and concerns early.
The sooner any issues are discovered, the sooner children can get the services and support they need to thrive alongside their peers.
Support at-home learning and growth.
A child's family is his or her first and most important teacher. Combining tools and expert tips with a family's love and support helps children grow healthy and happy.
To realize these goals, the initiative has released an online suite of free, downloadable materials—some for educators and providers, and some for parents and families. These materials include:
A Compendium of Screening Measures for Young Children
To emphasize the value of standardized screening tools, the Birth to 5: Watch Me Thrive! website includes a list of first-line screening tools like tests, questionnaires, and evaluations to alert care providers to issues like behavioral and developmental delays. This booklet is a useful reference for caregivers, educators, pediatricians, home visitors, case workers, behavioral health workers, and many others.
Tailored guides for specific audiences
Each guide describes the importance of developmental and behavioral screening, how to talk to parents, where to go for help, and how to select the most appropriate tool for each child and situation.
Resources for follow-up and support
On the Birth to 5: Watch Me Thrive! resources page, parents and care providers can get more information about child development, how and where to get help, and tips and techniques to help children with disabilities and delays. One of the resources in the package—the Developmental Screening Passport (PDF - 1.66 MB)—is a printable record for keeping track of a child's screening history and results.
"Birth to 5: Watch Me Thrive! aligns perfectly with the NICHD mission of ensuring that all children have the chance to achieve their potential for healthy and productive lives," said Dr. James A. Griffin, Deputy Chief of NICHD's Child Development and Behavior Branch and Director of the Early Learning and School Readiness Program. "A child's first 5 years will influence the rest of his or her life. The support and resources provided by this initiative will help parents and providers build the foundation for healthy futures."
The NICHD is pleased to be part of this federal partnership to support the Birth to 5: Watch Me Thrive! initiative and to equip people with important information to make a difference in children's lives.
More Information
For more information on the Birth to 5: Watch Me Thrive! initiative and related NICHD research and activities, select one of the following links:
NICHD Resources

A to Z Topics:
Previous NICHD spotlights on screening and child development:
NICHD news releases:
Originally Posted: September 15, 2014
---
Data Resource Center for Child and Adolescent Health. National Survey of Children's Health, 2011–2012. Retrieved from https://www.childhealthdata.org/learn-about-the-nsch/NSCH.
---