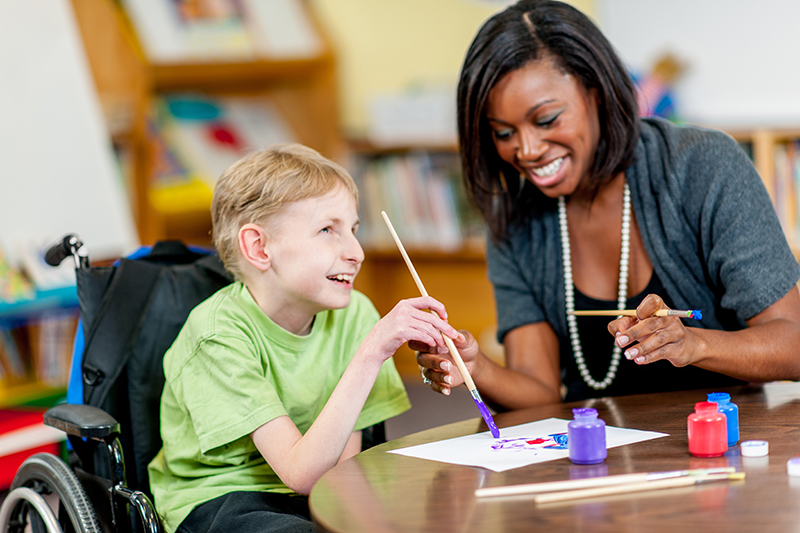 I recently took part in a panel discussion about Eunice Kennedy Shriver. As many people know, the institute was renamed in 2007 in recognition of her dedication to people with disabilities and her contributions to the founding of NICHD. Excerpts from the discussion will be part of a documentary—A Legacy of Inclusion—that will premiere during an event to commemorate what would have been Mrs. Shriver's 100th birthday in July. I was honored to take part in the event and to hear about her tireless efforts to empower people with disabilities and champion their inclusion in the world.
In the spring, I announced the launch of NICHD's STrategies to enRich Inclusion and achieVe Equity (STRIVE) initiative to promote equity, diversity, and inclusion (EDI) in our workforce and among those who participate in and conduct our research. Led by our Office of Health Equity, STRIVE aims to address these themes:
Reinforce EDI within NICHD's workforce
Foster EDI in the broader scientific workforce and among trainees
Understand how to mitigate, through research, the root causes of health disparities that may result from structural racism and discrimination, and develop potential solutions to reduce or address these disparities
A primary focus of the STRIVE initiative is to create an Action Plan that implements concrete activities and changes in pursuit of these themes and will be incorporated into NICHD's Strategic Plan activities. STRIVE is complementary to NIH's UNITE initiative, which aims to address structural racism in NIH-supported research efforts and the greater scientific communities.
The goals and activities of the STRIVE initiative align well with Mrs. Shriver's legacy. She believed that inclusion was a basic tenet of humanity and that how we treat the powerless reflects who we are as a society. She also demanded action over words—not just any action, but the best that a person could do. We think STRIVE will help us do our best.
I'd like to thank the many staff members with diverse career paths, backgrounds, and skill sets who are engaging in and leading STRIVE. This work is not easy, but they have accomplished a lot since the initiative launched.
With the understanding that you can't know where you're going if you don't know where you are, the STRIVE teams have been gathering and analyzing data on existing policies, practices, and priorities. Dr. Charisee Lamar, director of our Office of Health Equity, presented some of these data during NICHD's June advisory council meeting.
These baseline data give us a snapshot of the current state of the institute and provide a way to gauge our progress in the future. They also help us establish standard definitions and processes that form the foundation for consistent comparisons across datasets collected at different times.
In its next phase, STRIVE moves from facts to feedback. NICHD will be reaching out to stakeholders to have open and honest discussions about the institute and the STRIVE themes. This outreach will include an online platform for gathering and discussing feedback and actionable ideas on how NICHD can improve.
We also created a STRIVE listserv to allow informal interactions among staff and stakeholders interested in STRIVE. We invite you to subscribe to the STRIVE listserv to stay informed about our activities.
NICHD will also kick off the STRIVE for Change workshop series on July 14, 2021. The series focuses on better understanding the drivers of health disparities to help inform the Action Plan for STRIVE's third theme. Each workshop will address a different topic related to health disparities research, including how social identity can affect and promote health, societal influences on health and health disparities during childhood, community-engaged research strategies to mitigate health disparities in NICHD populations, and how translation and implementation science can be woven into the fabric of health disparities research. NICHD invites individuals and groups to attend one or more webinars in this series to ensure that a wide range of perspectives are heard and considered. We will share more information about the workshops on the STRIVE Engagement page as it becomes available.
As the institute pursues its mission to optimize health for all, we must also STRIVE to improve and enhance EDI and do our best for our workforce, for those who conduct our research, and for those who take part in and benefit from our research. Mrs. Shriver would accept nothing less.