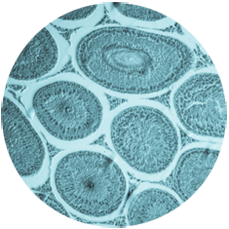 Contraceptive Development Program efforts focus on development of new methods of contraception for women and men.
NICHD has been leading federal research efforts on contraception since shortly after its establishment, when the Secretary of Health Education and Welfare established the Center for Population Research within the institute. Later, the Contraceptive Development Branch was created with the goal of developing new contraceptive methods. In 2017, the CDP was established in DIPHR with the mission to advance clinical development of novel contraceptive methods for men and women.
CDP uses contract mechanisms to pursue this goal, supporting a Chemical Synthesis Facility to synthesize clinical grade, active pharmaceutical ingredients that are not commercially available; a Biological Testing Facility that performs preclinical testing to qualify agents for studies approved by the U.S. Food and Drug Administration (FDA); and Contraceptive Clinical Trials Network, which conducts clinical evaluation of new contraceptives for males and females. CDP scientists coordinate and integrate program components to produce groundbreaking contraceptive research. The program also utilizes technology transfer mechanisms to form partnerships, translating discoveries and clinical advances into products that address unmet contraceptive needs of men and women.
Chemical Synthesis of New Drugs for Clinical Evaluation: Studies of new chemical entities (drugs) are conducted under an Investigational New Drug (IND) application, potentially leading to a New Drug Application. New entities that are not commercially available must be synthesized under current Good Manufacturing Practice (cGMP) that comply with all regulatory standards of chemistry, manufacturing, and controls. CDP maintains a contracted Chemical Synthesis Facility to produce novel drugs required for the program.
Preclinical Qualification of Drugs or Devices Prior to Clinical Evaluation: New chemical entities require toxicology testing to demonstrate safety. IND-enabling preclinical studies must be performed under Good Laboratory Practice (GLP) meeting regulatory standards. Human trials require formulation and release of agents under cGMP, and stability studies covering the duration of the trial. CDP maintains a Biological Testing Facility to perform preclinical evaluation and batch preparation required for first-in-human studies and longer toxicology studies for later phase clinical trials.
Contraceptive Clinical Trials Network (CTTN): The goal of the CCTN is to evaluate safety and efficacy of new contraceptive drugs and devices for women and men. Results of clinical trials on new entities form the basis for advancing candidate drugs and devices through development with the goal of FDA regulatory approval. The CCTN comprises top clinical investigators at qualified institutions, including both domestic and international sites, with expertise to conduct all phases of contraceptive evaluation, from first-in-human through Phase III. The clinical sites serve as the training ground for the next generation of investigators in the field. In 2017, three new clinical trials began recruitment. In 2018, three additional trials began recruitment with two trials expected to begin enrolling before the end of the year, including the first trial to evaluate a novel transdermal hormonal male contraceptive method in couples seeking to prevent pregnancy.
New Contraceptive Methods: Product development is challenging and has a low success rate with drugs for disease conditions. Once a candidate is identified, about 10% pass preclinical testing to enter clinical testing; only 12% of those products complete Phase III and FDA submission. Contraceptives are used by healthy people for long durations, so long-term safety is critical. CDP has a pipeline of products in clinical evaluation, including hormonal or non-hormonal options for women and novel hormonal methods for men. Each product is developed to fill an unmet need or provide greater safety to vulnerable populations at risk of unintended pregnancy.
---
Highlights
Interview with Dr. Blithe  (MP4 67 MB) at the 15th Congress of the European Society of Contraception and Reproductive Health
Blithe DL. Pipeline for contraceptive development. Fertility and Sterility. 2016; 106(6):1295-1302. PMID: 27523300. PMCID: PMC5159203.
Watch Dr. Blithe present on "Prospects and Pipeline for Male Contraception"  at the 2017 Nobel Conference 53: Reproductive Technology: How Far Do We Go?