Overview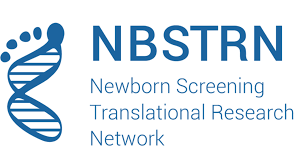 The NBSTRN is a resource for investigators engaged in newborn screening related research. As part of the Newborn Screening Saves Lives Act (in 2007 and 2013), and the Newborn Screening Saves Lives Reauthorization Act (Public Law 113-240), the Hunter Kelly Newborn Screening Program was established, with the NBSTRN Coordinating Center as a key component. The NBSTRN Coordinating Center is funded by a contract to the American College of Medical Genetics and Genomics (ACMG) from the NICHD Intellectual and Developmental Disabilities Branch (IDDB).
The primary goals of the NBSTRN are to:
Enable biomedical investigators, with appropriate IRB permission and privacy protections, to access dried bloodspots and other biological specimens in a site-independent manner for research
Support the needs of investigators to:

Evaluate the predictive value of biomarkers through early phase clinical/epidemiological studies
Facilitate the development and assessment of new methods and technologies to improve the capacity for early identification through newborn screening
Identify candidate diseases for inclusion in expanded newborn screening
Determine the effectiveness of treatments and long-term outcomes by means of studies involving screened and treated patients

Encourage collaboration among researchers and rapid dissemination of information to promote progress and avoid fragmentation of effort
Develop policies and procedures that support privacy and confidentiality of patient-related information as well as appropriate rules by which to conduct the research
The NBSTRN works collaboratively with other organizations involved in newborn screening related activities. These groups include both federal programs (the Health Resources and Services Administration, the National Library of Medicine, and the Centers for Disease Control and Prevention) and organizations such as the Association for Public Health Laboratories, the Genetic Alliance, and the National Newborn Screening and Genetics Resource Center.
Topic Areas
Current research projects actively using the infrastructure provided through the NBSTRN include (but are not limited to) the following:
Research on, and assay development for, lysosomal storage disorders
Studies of inborn errors of metabolism and evaluation of the effectiveness of current interventions
Testing of spinal muscular atrophy screening methods and evaluation of ethical, regulatory, and policy issues that are associated with screening
Research on, and assay development for, severe combined immunodeficiency disorders
Characterization of disorders of sex development and the development of effective screening methods
To advance research on newborn screening, the NBSTRN provides three major research tools for investigators:
The Virtual Repository of Dried Blood Spots (VRDBS). The VRDBS is a secure Web-based tool that provides a centralized and de-identified view of dried blood spots stored in all participating states.
Laboratory Performance Evaluation of Analytical Screening and Diagnosis Data (R4S). The R4S is a database application for the collection and reporting of analytical newborn screening and diagnosis data.
Long-term Follow-Up Data Collection. This data collection tool and management system allows the collection of follow-up screening data for data sharing and dissemination to screening programs.
More Information