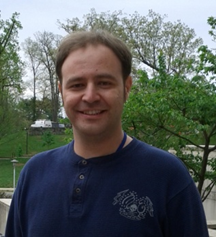 Post-doctoral Fellow
Section on Molecular Transport
Eunice Kennedy Shriver
National Institute of Child Health and Human Development
9 Memorial Drive, Room 1N124
Bethesda, MD 20892
Telephone: 301-402-9504
Email:
oscar.hermida@nih.gov
Now: Head of the Medical Epigenetics Department at EuroEspes Biomedical Research Center
Institute of Medical Science and Genomic Medicine, Corunna, Spain
Publications
Personal statement:
I am a biologist with a research background mostly involved in the field of Biochemistry and Molecular and Cell Biology. Nevertheless, the Biophysics has been occupying most of my time during the last three years so that I gained solid experience in channel reconstitution and voltage clamp. I believe that the rapid advances in modern research require synergy of backgrounds.
I dedicated my PhD to study the biochemical pathways of protein degradation during neurodegeneration. Then, I spent near six years of post-doc performing research in the field of mitochondria, primarily from a biochemical point of view, and more lately, from the physiological and structural sides. Mitochondrial bioenergetics is crucial to maintain cell homeostasis. Therefore, mitochondrial dysfunction is related to several pathologies associated with impaired cell development. My future plan is to study mitochondria bioenergetics in neurodegenerative disorders.
Biosketch:
Since June 2010 to 2015, Dr. Teijido was a postdoctoral fellow at the Section on Molecular Transport, Program in Physical Biology, NICHD/NIH where he combines biochemical and biophysical approaches to study mitochondria-related proteins, specially focusing on the Voltage-Dependent Anion Channel (VDAC). He is developing a novel model to explain the molecular mechanism of VDAC voltage-gating, which has been matter of controversy for decades. He works on both experimental and theoretical approaches of VDAC voltage-gating analysis. This would be the first attempt to quantitatively describe the voltage-gating complexity of large beta-barrel membrane channels and will constitute a breakthrough in our understanding of the function and regulation of large transport channels. Dr. Teijido obtained his Biology Sciences Degree in the University of La Coruña (Spain) in 1999, and his Master Degree in Molecular and Cell Biology in the same University in 2001. In 2002, he obtained a Research Scholar position at New York University. Dr. Teijido received his PhD degree from the University of Barcelona (Spain) in 2007 in the fields of Biochemistry, Molecular Biology, and Neuroscience. He held his first post-doctoral position at New York University (NYU) from May 2007 to May 2010, where he started to work in biochemical aspects of the mitochondrial role in cell life and death. Dr. Teijido has co-authored several scientific papers, presented his research in many national and international meetings, and been an invited speaker at different research institutions in Spain and the USA.