The NICHD Has Led the Way on Pharmaceutical Research to Make Medicines Safer for Infants and Children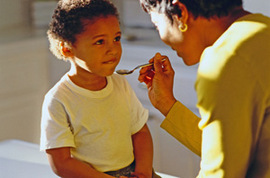 If your health care provider wanted to give you a medication, but you knew that it hadn't been tested on people within your age group, would you still take it?
That's the dilemma many parents face when trying to care for their children—the majority of drugs given to infants and children have not been tested in these age groups for safety, effectiveness, or dosage.
In the last few years, Congress has passed a number of laws and regulations to encourage research on the way drugs—both those available only with a prescription and those available over the counter—affect infants and children. Most recently, amendments to the Food and Drug Administration (FDA) Safety and Innovation Act made permanent certain rules to improve the safety and effectiveness of drugs, devices, and other medical products for children. This and other important legislation are meant to safeguard and advance public health by encouraging drug development for and testing in infants and children.
The NICHD has long recognized the importance of safe and effective drugs for use in infants and children and has supported research to improve drug development and testing in these populations. Let's take a look back at more than 20 years of NICHD-supported pediatric pharmacology research. Select a link below to learn more.
Children Are Not Just Little Adults
New Research Incentives
The NICHD and the Best Pharmaceuticals for Children Act (BPCA)
NICHD Pediatric Pharmacology Research Today
More Information
Children Are Not Just Little Adults
The NICHD's support of pediatric pharmacology research began—to some degree—shortly after the Institute was established, as part of scientific projects involving populations of children. However, it was in 1992 that the Institute's activities took a more distinct and formal approach. Through its Pediatric Growth and Nutrition Branch (PGNB)—then the Endocrinology, Nutrition, and Growth Branch—the NICHD invited research institutions to participate in a network focused solely on pediatric pharmacology research. The Network aimed to be collaborative, involving not only federal agencies and federally supported research institutions, but also the pharmaceutical industry.
This collaboration, called the Pediatric Pharmacology Research Units (PPRU) Network, was modeled after the NICHD's other successful research networks that studied vulnerable and hard-to-recruit populations, such as pregnant women. In the PPRU Network, multiple research sites across the country enrolled children into common studies using identical procedures and criteria, to ensure a large enough, diverse enough population for the research to be applied to the general population. The PPRU Network officially began in 1994 with seven research sites.
Initially, the PPRU Network facilitated and encouraged pediatric "labeling" of new drugs and drugs that were already on the market. Drug labeling tells health care providers what the drug has been approved for: the conditions, age groups, dosages, length of time, etc. A drug's label only includes information supported by scientific evidence. If the drug was not tested in a certain population, such as children, the label can't include information about use of that drug in that population, leaving providers without scientific evidence to guide their decisions. At the time, several barriers to drug research in children made pediatric labeling a significant challenge. The PPRU Network set out to show that drug research could be done safely and ethically in pediatric populations to the benefit of patients, providers, and pharmaceutical companies.
The results were impressive. By 1996, the PPRUs had initiated 14 Network-wide studies and had provided evidence that led to changes in the labeling of acetaminophen use in children. In its first 5 years, the Network performed more than 100 studies in infants, children, and adolescents. In 1999, the NICHD expanded the Network to 13 sites. By 2007, the PPRU Network had performed more than 260 studies and had contributed to the pediatric labeling of 23 drugs. Funding for the PPRU ended in 2010.
During its existence, the PPRU Network's contributions went beyond drug labeling and testing. It also:
Served as a valuable resource for training researchers and clinicians in pediatric pharmacology.
Refined study designs to more safely accommodate infants and children.
Provided critical information about children's metabolism.
Supported the discovery of better drug delivery systems, imaging systems, and methods for gathering data.
Between 1994 and 2010, the PPRU Network not only brought the issue of pediatric pharmacology to the attention of the research community and the pharmaceutical industry, but it also changed the way pharmacology research was conducted in pediatric populations.
New Research Incentives
Partly because of the PPRU Network's work and partly because of new incentives offered by the FDA, pharmaceutical companies became more interested in pediatric research on their products and were more willing to conduct this type of research.
In 2002, Congress passed the Best Pharmaceuticals for Children Act (BPCA), directing the Secretary of the Department of Health and Human Services, acting through the NIH Director, to establish a pediatric drug development program. As a result, the NICHD received the authority and the responsibility to establish and conduct a pediatric drug development activity, as specified in the law.
NICHD responsibilities under the BPCA include:
Assessing the availability of information about the safe and effective use of a given drug in the pediatric population
Determining whether additional information is needed
Determining whether new pediatric studies on a given drug are likely to be beneficial for child health
The BPCA provided legal mechanisms for studying drugs in children, including drugs still on patent and those whose patent had already expired. The law also provided incentives to drug companies to test their drugs in children. For example, a drug still on patent, if tested for pediatric use, could have an additional 6 months of patent protection—a powerful economic incentive that extended the time in which a company had exclusive rights to market and sell the drug.
The NICHD and the Best Pharmaceuticals for Children Act (BPCA)
As the NICHD began to take on its responsibilities outlined in the BPCA, one of its earliest efforts was to collaborate with the FDA on the Newborn Drug Development Initiative (NDDI), which began in 2003. In March 2004, a wide range of experts in newborn health and disease gathered under the auspices of the NDDI to discuss clinical trial needs and design such trials for conditions and diseases specific to newborn infants. Working groups focused on the brain and nervous system (neurology), the heart and circulation system (cardiology), and the lungs (pulmonary), and three other working groups focused on issues of importance to all newborn drug trials: pain control, determining which drugs are most important to study, and the ethics of drug trials in newborn infants.
In 2004, the NICHD created the Obstetric and Pediatric Pharmacology Branch (OPPB), recently renamed the Obstetric and Pediatric Pharmacology Therapeutics Branch (OPPTB), to centralize research, clinical trials, and drug development activities for pediatric and obstetric pharmacology into a single organizational unit. Most NICHD-supported research in pharmacology was transferred to the new Branch, including the PPRU Network.
The new Branch aimed to tackle another under-studied area within pharmacology, the need to understand the effects of drugs taken by a pregnant woman on both herself and on her fetus, and continuing while the newborn child is nursing. To help fill that gap in knowledge, the OPPB funded the Maternal and Pediatric Precision in Therapeutics (MPRINT) Hub, also starting in 2004. Today, the OPRU Network includes four research sites and a data coordinating center to design clinical trials that can be carried out simultaneously across all four sites.
Since 2006, OPRU Network investigators have published more than 100 papers on dozens of drugs. Current studies include an investigation of Tamiflu® during pregnancy, a study of glyburide and metformin for treating gestational diabetes, a study of the maternal-fetal safety of pravastatin to prevent preeclampsia in high-risk pregnancies, and a study of progestin to prevent recurring preterm birth.
NICHD Pediatric Pharmacology Research Today
Congress reauthorized the BPCA in 2007 and 2012, offering more incentives to pharmaceutical companies to test their on-patent drugs in the pediatric population and extending and expanding the research program at NIH. Today, all BPCA implementation and coordination takes place as part of the activities of the OPPTB.
The 2007 BPCA called upon the NICHD to publish every 3 years a list of priority drugs for which pediatric studies are needed. This list is based on public comment and collaboration with a wide range of experts in the FDA and other NIH Institutes and Centers. Once a drug is designated a priority, the NICHD works with the FDA to develop a pediatric clinical trial of the drug The NICHD works through its Pediatric Trials Network , a contract awarded in 2010 to Duke University, to conduct the research. This Network is currently sponsoring five clinical trials in infants from birth up to 2 years of age, and another five studies in children up to 16 years of age, involving a number of drugs.
The 2007 BPCA also directed the NICHD to perform a variety of interagency tasks, including workshops and training initiatives in collaboration with other NIH Institutes and Centers. Since 2009, the NICHD has also collaborated with the FDA on the Pediatrics Formulation Platform, an important initiative to develop commercially available, oral pediatric versions of important drugs.
In 2010, the OPPTB established the Specialized Centers in Research in Pediatric Developmental Pharmacology, funding four such centers. In many respects, these specialized centers build on the lessons learned from the PPRU Network. The Centers' tasks include understanding how children's response to drugs changes over the developmental path from newborn to adolescent, providing a platform for interdisciplinary pediatric clinical research, and training scientists in pediatric pharmacology research.
The NICHD is also strongly focused on training and career development for the next generation of obstetric-fetal and pediatric pharmacology researchers. These efforts include participating in the NIH Ruth L. Kirschstein National Research Service Award Institutional Research Training Grants program to support predoctoral graduate students and postdoctoral candidates in pediatric pharmacology training and a separate program for postdoctoral training for maternal-fetal pharmacology research.
In addition, the NICHD and the National Institute of General Medical Sciences co-fund 11 fellowship programs that form the Pediatric Clinical and Developmental Pharmacology Training Network. This Network stimulates interdisciplinary collaboration among clinical, translational, and basic investigators working in complementary areas of pediatric therapeutics. The Principles of Pediatric Clinical Pharmacology Series , created for pediatric clinical pharmacology students within the Network, addresses fundamentals of clinical pharmacology from a pediatric perspective and features lectures by faculty from academic institutions and government agencies.
The NICHD has been a leader in ensuring that medications used in children and infants are actually tested for safety and effectiveness in children and infants. The NICHD's PPRU Network was a bold, successful experiment that changed the way pediatric pharmacology research was viewed and conducted. Today, the Institute's activities support the collaborative efforts of academic investigators, pharmaceutical sponsors, and the NIH in addressing these critically important issues.
More Information
For more information on pediatric pharmacology research and initiatives, select one of the following links:
Originally Posted: December 3, 2013