More than 10 years of research reveals much about fragile families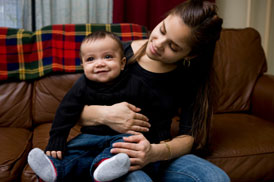 Families today look very different than they did a generation or two ago. According to recent data, for example, 40 percent of infants are born to unmarried mothers—more than double the number for 1980.
To understand the evolution of America's families, the NICHD supports nationwide research that examines families—including "fragile families" of unwed parents and their children—patterns of change in families, and the effects of these changes on children, parents, and society as a whole.
Who are the mothers and fathers in these fragile families? How do their relationships—to each other and to their children—change over time? What is life like in a fragile family? And what are the experiences of children from fragile families as they grow and enter school?
The results of more than a decade of this research are now available. Findings from the Fragile Families and Child Well-Being study (called the Fragile Families study or Fragile Families), launched by the NICHD in 1998, were recently published in a special issue of the journal The Future of Children

. The study is supported through the NICHD Demographic and Behavioral Sciences Branch and offers a snapshot of life for fragile families living in major cities today.
The overall aims of Fragile Family are to understand:
The parents in fragile families, including their relationships with each other and with their children, and how these relationships change over time;
The children in fragile families, including how being raised in such a family affects their well-being; and
The impacts of these families on society as a whole, including trends related to the formation of fragile families, and what role, if any, policies might play in tempering these impacts.
Using hospital and home visits, medical records, and interviews with parents, child care providers, and teachers, Fragile Family researchers collected data on nearly 5,000 couples in 20 of the nation's largest cities. Of the families that participated in the study, three-fourths were fragile families—unmarried when their child was born.
The study showed that, when compared with married parents, unmarried couples:
Were more likely to break up;
Earned less and were more likely to live in poverty;
Relied on public and private programs and help from family and friends to make ends meet; and
Were more likely to report being in poor health, have a health-related limitation, and to drink heavily or to use drugs.
Researchers also found that children in these families were at greater risk for physical and other types of abuse, poor performance at school, and behavior problems.
Other key findings reported from the Fragile Families study include the following:
When their child was born, more than 80 percent of unmarried parents either lived together or maintained a close relationship while living separately.
Although the parents often reported having a romantic bond at their child's birth and intentions to formalize their relationship commitment, most unmarried parents did not stay together or collaborate in raising their children over the long term.
Parents who were most likely to get married by the time their child turned one year old were older, earned more, and had higher levels of education than those who were less likely to be married in the same timeframe.
By the time children in the study were five years old, 35 percent of parents who were not married at their child's birth were still together as a couple.
A parent's multiple relationships contributed significantly to instability in a child's life. For instance:

Unwed parents were almost three times more likely than married parents to have a child with another partner.
One-fourth of single mothers lived with a new partner in the five years after their child was born.
One-fifth of single mothers had a child by a new partner in that time.
Three-fifths of single mothers had more than two new relationships in that five-year period.

While, overall, children from fragile families saw their fathers at least once a month, children whose mothers or fathers were in romantic relationships with others saw their fathers less often.
The capabilities and contributions of unwed fathers fell short of those of married fathers and differed in important ways by the kind of relationship the fathers had with their child's mother.
The study found substantial differences in the prevalence of fragile families depending on racial and ethnic background and socioeconomic status.
Each break-up or new relationship for parents in a fragile family seemed to have a negative effect on children's behavior, especially for boys, and on school performance. The research showed similar effects of relationship transitions on aggressive, depressive, and withdrawal behaviors.
Contrary to expectations that access to college promotes family stability and economic security, existing policies and programs to promote college education did not provide enough support for parents in fragile families. Many reported that they found it impossible to work, raise their families, and attend college, even on a part-time basis.
The researchers also suggested actions that community leaders and policy makers could take to improve outcomes for fragile families, including tailoring existing interventions (which generally target married or middle-income couples) to the specific needs of unwed couples, especially to address relationship building and father involvement.
For more information, select one of the links below:
Originally posted: December 3, 2010