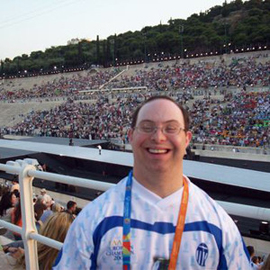 As a person with Down syndrome, David Egan has made it his mission to fulfill his own potential and to help other people with Down syndrome fulfill theirs. Here he discusses his work, his belief in the power of research, and his hopes for the future.
You have been swimming in the Special Olympics for a long time. What do you love most about it?
I started swimming with Special Olympics when I was 8 years old. Before that, I swam at our neighborhood swimming pool, where I participated in relays and competitions with all the neighborhood kids. Special Olympics gave me additional confidence and a platform to showcase my abilities.
What really made the biggest difference for my swimming was when I met my friend, coach, and mentor Parker Ramsdell. We worked together for 7 years on my swimming. With his support and patience, I was able to win many gold medals. He took me seriously and taught me the individual medley and flip turns. He taught me to learn from my mistakes. What counted most was that he believed in me. Special Olympics is about the athletes and those, like Parker, who believe in us and our abilities.
Special Olympics has changed my life by allowing me to realize all my different abilities. It has helped me understand that I am not defined by my disability, and it has been the springboard for my leadership in self-advocacy and my career.
The real importance of Special Olympics is how that spirit that we show on the field and court translates to our everyday lives and the people around us. It does change people's perceptions.
You were selected as a Special Olympics ambassador. What was it like to be selected?
That was like a dream come true. [Sargent Shriver International Global Messengers] are Special Olympics athletes who serve as spokespeople to spread the message and vision of the Special Olympics movement. I am now one of 12 International Global Messengers, who come from every corner of the world. I am an athlete, a volunteer, and a leader who wants to make a difference. Now it is my turn to give back.
One of my duties was to attend the Special Olympics World Games in Los Angeles in July 2015. I was so excited when I had the speaking role in the opening and closing ceremonies. On Family Day, I also gave the thank-you speech to families from more than 165 countries.
As an International Global Messenger, I want to be an ambassador of unity and peace, making the world a better place for all, a place where people see our different abilities rather than just our disabilities. I am working hard to make our movement stronger and to make an impact on the lives of people across our nation and all over the world.
You joined DS-Connect®: The Down Syndrome Registry to share your health information with researchers. Why did you feel that being involved with research is important?
Research is very important to me. I was the first person with intellectual disabilities to be a student at the Waisman Early Childhood Program at the University of Wisconsin in Madison, which is well known for its research.
Early on in my life, I worked closely with researchers at the university who came to my house and filmed me every month, observing my motor skills. I was a good case study for the nurses at the university, who would listen to my heart. It makes loud noises! They also wrote about me in their nursing textbooks, with three generations of my family's pictures to highlight the importance of family and community support.
My family and I went back to the Waisman Center a few years ago and volunteered for the latest [induced pluripotent] stem cell research

studies. The hope is that research will uncover new information about the Down syndrome condition and will help us have better opportunities to lead happy and healthy lives. Anything that can give us an edge to lead fulfilling lives is worth pursuing.
I was invited to NIH in December 2007 when NICHD was renamed the Eunice Kennedy Shriver National Institute of Child Health and Human Development. So DS-Connect® is part of that research community encouraging families to share their information and benefit from creating this database that supports research. It ultimately will help us all improve the quality of our lives.
How did you become an advocate on behalf of people with Down syndrome?
In 2006, I applied to become a board member of the Down Syndrome Association of Northern Virginia. There were some skeptics among the board members, but very quickly, the group included me fully in their meetings, and I became one of them and not one among them. They asked for my opinion. I submitted initiatives and voted for others.
Then, I participated in national and international conferences focused on Down syndrome issues, including a conference in Ireland. I was a keynote speaker at the United Nations on World Down Syndrome Day and a keynote speaker at the World Down Syndrome Day conference in Trinidad and Tobago. I also became a board member of the Down Syndrome Affiliates in Action and of The Arc of Northern Virginia.
How much time do you spend on advocacy?
It's my life, especially now that I'm a Joseph P. Kennedy, Jr. Foundation Public Policy Fellow. I first worked on Capitol Hill for the Ways and Means Committee, and now the fellowship has taken me to the National Down Syndrome Society

.
As a fellow, it is my job to influence legislation, be a spokesperson, and remind people of the needs of people with intellectual challenges. I feel even more valued and grateful to serve as the first-ever fellow with an intellectual disability.
Before the fellowship, I worked for 20 years at Booz Allen Hamilton. I would take time off to participate in events giving workshops and speeches. Most of my weekends and evenings are spent volunteering and helping where needed.
What does it mean to you to be an advocate? Why is it important to you?
I am a part of the first generation of Down syndrome individuals to break free from the institutions that had plagued our potential and acceptance. My goals have focused on breaking down barriers and opening up opportunities for the next generation. I want the next generation of individuals with intellectual and developmental disabilities to greet a world of acceptance, unity, and inspiration.
I made these dreams and goals a reality thanks to my family, teachers, mentors, and friends: the people who believe in respect, dignity, and equality and who take the time to teach, lend a hand, and believe in me. They have expectations, and I'm motivated to rise to the occasion.
What do you consider your biggest success as an advocate?
My biggest success as an advocate has been proving to the world that a person with Down syndrome can have a competitive job, pay taxes, vote, and be self-sufficient, just like anyone else. We are more alike than different. I hope that my employment history becomes the norm and not the exception.
I'm also very proud of testifying at the Senate Health, Education, Labor, and Pensions Committee to promote employment and full inclusion of people with intellectual disabilities. Also, speaking at the United Nations about our human rights was a highlight in my career.
What is the main thing you want people to understand about Down syndrome?
I used to ask my mother, "When will this Down syndrome thing go away?" She would tell me, "It will stay with you all your life, but it doesn't stop you from having dreams and being successful." She was right. Down syndrome does not define us as people. It is a condition that makes it harder for us to learn, but with patience and persistence, we are able to contribute to our society. We may have unique challenges, but our lives matter and we are citizens with equal civil and human rights.
What advice would you give to a child with Down syndrome?
Don't give up; don't get discouraged when things are not easy. I learned by observing others. Be patient. Work with your family, teachers, and mentors. Find something that you are good at and be the best you can be at it.
You've mastered speaking to Congress, receiving an Olympic medal, and speaking out for people with Down syndrome. What would you like to tackle next?
I'm at a difficult juncture right now. My fellowship ends in February 2016, and I am still debating if I should go back to my job as a clerk in the distribution center at Booz Allen Hamilton or if I should pursue other jobs that will give me more opportunities to advocate and lead our movement. . . .
There are lots of areas that we still need to tackle, including school-to-work transition . . . , education where young students are taught skills that will make them successful as adults, health care where professionals and researchers will discover cures, and interventions to improve our cognitive skills and our overall well-being.
We are living longer now, but we still have very little knowledge about aging among people with Down syndrome. I am 38 years old and in fairly good health. I do not know what the future will look like, but I hope it is a bright one and I can help make it good for all of us.
More Information
Originally Posted: October 30, 2015