New NICHD Program Equips Teen Leaders to Be Community Health Educators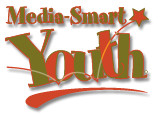 The NICHD has recently launched the Media Smart Youth® Teen Leaders Program (PDF - 30.0 MB), a new community service opportunity for teens and young adults interested in teaching youth about media's influence on health.
Youth in the United States spend, on average, 7.5 hours a day

using entertainment media. Media use is one of several important factors that can affect child health, particularly as it relates to nutrition and physical activity.
Teen leaders commit to carrying out the NICHD's Media-Smart Youth: Eat, Think, and Be Active!® (PDF - 30.0 MB) program from start to finish. That includes, among other responsibilities:
Identifying a place to hold the lessons
Recruiting youth to participate
Leading discussions and activities on media literacy, nutrition, and physical activity
Helping youth with their capstone project, The Big Production (PDF - 30.0 MB)
Providing feedback for the benefit of future program facilitators
In return, teen leaders receive significant leadership experience, community service hours, and recognition from the NICHD.
The NICHD provides everything the teens need to run the program, including training, ongoing assistance, and $1,000 for program expenses. Teen leaders have additional help from an adult volunteer advisor on site and a nonprofit partner, both of whom they must enlist in advance.
Young adults ages 15 to 20 are eligible to apply. Applications are due October 24, 2014.
For more information, visit the Media Smart Youth® Teen Leaders Program (PDF - 30.0 MB).
More Information
Originally Posted: October 6, 2014