Newly Launched Registry, DS-Connect®, Will Help Connect Those in the Down Syndrome Community to Information, Resources, and Research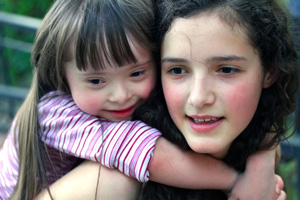 It is estimated that there are about 250,000 people living with Down syndrome in the United States, according to the Centers for Disease Control and Prevention. Most cases of Down syndrome result from having an extra copy of chromosome 21 in most or all of the body's cells. The extra chromosome not only causes the physical features that are characteristic of the syndrome, but also the intellectual and developmental disabilities (IDD) associated with the condition.
Understanding Down syndrome—its mechanisms, its effects on overall health, and ways to minimize its symptoms—has been an important part of the NICHD mission since it was established. The Institute is launching the DS-Connect®: The Down Syndrome Registry in an effort to create a centralized, secure national resource for storing and sharing health information about Down syndrome. Select a link below to learn more:
Why a Down Syndrome Registry?
Other NICHD Activities Related to Down Syndrome
More Information
Why a Down Syndrome Registry?
Researchers and those interested in Down syndrome have been discussing the idea of a national registry for some time. The concept was discussed during the creation of the NIH Research Plan on Down Syndrome, published in 2007, and was a primary recommendation of that Plan. In 2010, the NICHD sponsored a conference with Down syndrome experts to discuss whether and how a national registry could benefit Down syndrome communities. Read more about the conference at: Down syndrome: national conference on patient registries, research databases, and biobanks.
In 2011, the NICHD led the creation of the Down Syndrome Consortium, a discussion forum aimed at making Down syndrome research efforts more cohesive, minimize duplication of effort, and capitalize on knowledge from those with the greatest experience in the field. The Consortium includes 6 NIH Institutes, individuals with Down syndrome and their families, and public and private organizations interested in aiding research efforts and care.
DS-Connect®: The Down Syndrome Registry is an important step toward improving Down syndrome research because it will link people with Down syndrome and their families to researchers and health care providers in a novel way.
Individuals with Down syndrome, or family members on their behalf, who volunteer to take part can create their own personalized profiles describing their health history, demographic information, and other data.
Users can also complete health related surveys that allow for comparison of medical information among users while still maintaining privacy.
In the future, the Registry will also be linked to a biobank that will store donated samples, such as cells and tissues.
Researchers can alert the Registry Coordinator about recruitment for upcoming studies. Registry members who are interested in research studies can give permission to be contacted by the Registry Coordinator about taking part in specific clinical studies for new medications and other treatments.
Learn more about the DS-Connect® registry at NIH launches first national Down syndrome registry or on the Down Syndrome Consortium Website at https://dsconnect.nih.gov/.
Other NICHD Activities Related to Down Syndrome
While news about the Registry spreads throughout the Down syndrome community, the NICHD and the Consortium will focus their attention on updating the NIH Research Plan on Down Syndrome. Members are not only looking at what the NIH accomplished, but also at new or additional issues that need to be addressed. The NICHD also asked for input from the public to help inform updates to the NIH Research Plan. The updated plan is expected in early 2014.
The NICHD continues to support genetic studies and clinical trials evaluating medical interventions and therapies that help improve health outcomes for those with Down syndrome and their families. Some recent findings include a way to minimize the memory and learning deficits in mice with Down syndrome and an evaluation of the drug memantine for improving cognitive abilities in mice with Down syndrome. NICHD-supported researchers are also conducting a clinical trial to find out if vitamin E can slow the rate of mental decline in people with Down syndrome who are older than age 50.
Improving the health of those with Down syndrome and their families remains a primary focus on the NICHD. The Institute is excited about the research and advances that DS-Connect®: The Down Syndrome Registry makes possible and encourages those in the Down syndrome community to join the Registry.
More Information
The following links provide more information about the Down syndrome registry and NICHD research:
Originally Posted September 6, 2013