NICHD Observes National Child Abuse Prevention Month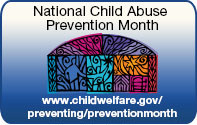 Child abuse and neglect are serious problems in the United States, with an estimated 679,000 victims in 2012, according to the Administration for Children and Families (ACF). The NICHD is working to understand and prevent child abuse and neglect through federal partnerships and research support.
The Federal Interagency Work Group on Child Abuse and Neglect, of which the NICHD is a member, facilitates collaboration among federal agencies with an interest in preventing child abuse and maltreatment. The group shares information, makes policy and program recommendations, and works together on other activities to stop child abuse and neglect. The Work Group is led by the ACF's Children's Bureau, which also coordinates federal activities every April for National Child Abuse Prevention Month.
The NICHD, with the National Institute on Drug Abuse, co-chairs one of the Work Group subcommittees—the NIH Child Abuse and Neglect Working Group, established to report on current NIH efforts, accomplishments, and future plans for research on child abuse and neglect.
The NICHD also funds research to identify effective interventions to help reduce the risk for abuse and to increase our understanding of the short- and long-term effects of abuse and neglect on children and families. Many of the Institute's activities related to child abuse are coordinated within two extramural Branches: the Pediatric Trauma and Critical Illness Branch and the Child Development and Behavior Branch.
The Pediatric Trauma and Critical Illness Branch, established in 2012, supports studies that explore short- and long-term consequences of traumatic experiences, such as acute forms of child maltreatment, violence, and exposure to violence. The Branch's Pediatric Injury and Violence Research Program focuses on intentional and unintentional injuries of children. This portfolio includes research on the diagnosis and treatment of acute forms of child maltreatment, such as abusive head trauma, sexual abuse, and medical neglect (when a lack of adequate health care services leads to impairment, pain, or death).
Through its Program in Social and Emotional Development/Child and Family Processes, the Child Development and Behavior Branch studies child development in high-risk settings, such as violent or abusive environments, and in family settings where stressors such as poverty, unemployment, and homelessness are present.
Below are brief descriptions of some NICHD-supported studies related to better understanding and preventing child abuse:
The NICHD will continue to support research to help prevent child abuse, identify it when it happens, and develop better interventions and treatments. Breaking the cycle of child abuse is critical for children and their families, as well as future generations.
More Information
For more information on this topic, select one of the following links:
NICHD Resources

Studies discussed in this Spotlight:
Related A to Z Health Topics:
Originally Posted: April 16, 2014