Seventh Annual Event Shines Spotlight on Rare Diseases and Research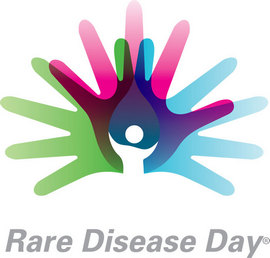 On February 28, the NIH observes Rare Disease Day to raise awareness of the approximately 7,000 rare diseases in the United States. The day is an opportunity to recognize how rare diseases affect those who have them, and to emphasize the importance of research to improve diagnosis and treatment.
The NIH will mark the day with a full slate of discussions, presentations, and a tour of the NIH Clinical Center. Admission to the day's events is free and open to the public. The NIH also joins the Global Genes Project

in encouraging participants to wear their favorite pair of jeans as part of the Wear That You Care™ campaign to raise awareness of rare and genetic diseases.
Many rare diseases can be chronic, progressive, debilitating, disabling, and life-threatening. For those who have a rare disease, misdiagnosis and delayed diagnosis are common, and support services may be scarce. About 80% of rare diseases are genetic in origin, according to the Office of Rare Diseases Research (ORDR), now part of the National Center for Advancing Translational Sciences, and about one-half of all rare diseases affect children.
The NIH conducts and funds research on these sometimes neglected conditions, and it helps patients with rare diseases receive treatment. NIH's Rare Diseases Cooperative Research Consortia (RDCRC)—a part of the Rare Diseases Clinical Research Network

—has 17 consortia, each working on a different group of rare diseases.
The NICHD's Intellectual and Developmental Disabilities Branch supports four rare disease consortia within the RDCRC, including the:
Angelman, Rett, and Prader-Willi Syndromes Consortium, which studies various aspects of the neurodevelopmental diseases Angelman syndrome, Rett syndrome, and Prader-Willi syndrome
North American Mitochondrial Disease Consortium , which focuses on a wide variety of mitochondrial diseases, such as Pearson syndrome and Alpers-Huttenlocher syndrome
Sterol and Isoprenoid Research Consortium, which studies disorders related to cholesterol and other sterol and isoprenoid metabolism, such as Smith-Lemli-Opitz syndrome, Niemann-Pick disease type C, and Sjögren-Larsson syndrome
Urea Cycle Disorders Consortium, which examines disorders that affect the body's urea cycle, often causing wastes to build up in the blood and cause neurological and other developmental problems
The goals of these consortia include gaining better understanding of the diseases, developing better ways to diagnose and treat them, and providing information to affected patients, families, and the public. The consortia also have a contact registry, allowing patients who are interested in participating in research to connect with researchers studying these diseases.
Through this registry, the research network, and these consortia, researchers, patients, and their families can help make rare diseases even rarer.
More Information
For more information on this topic, select one of the following links:
Originally Posted: February 26, 2014